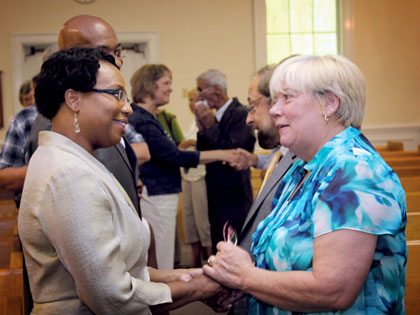 A dwindling white congregation gifts its building to a thriving black one in Richmond, Va.
Light Community Church in Richmond, Va., was recently given a 7,400-square-foot church facility with 3 acres of land—for free.
The 66-year-old Stukeley Hall Baptist Church had once been a thriving congregation. In recent years, the mostly white church's membership has dwindled in the increasingly diverse neighborhood. With an attendance of 20 people and a large church building, the leadership decided to gift the facilities to people who could more effectively minister in the area.
The Rev. Richard Landess and his team connected with Pastor Kimberly Ridley of Light Community, which welcomes 150-175 each Sunday morning. Established in 2010, LCC initially held services in a high school and most recently shared facilities with another church. With regular block parties, mentoring for young people and other programs, LCC was a perfect fit for the church's location.
"We found out Pastor Ridley was well qualified and saw what she had already done," Landess says. "We came to the conclusion that this would be the best thing to do for our community."
On July 14, Landess handed over the keys to the building in a celebration service that members of both congregations attended. After remodeling, LCC services began Sept 8.
"I have cried several times … it's been so humbling," Pastor Ridley says. "A church that was predominantly white under male leadership has been transferred to a congregation that is predominantly black under female leadership. It can't be denied that God is moving."