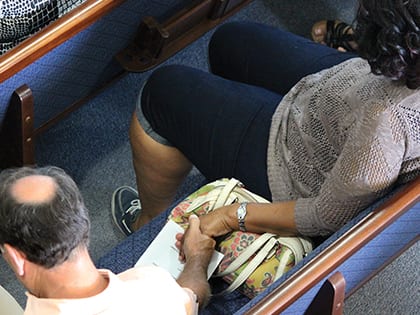 Two churches combine forces to build friendships and tear down racial stereotypes.
THE CHURCHES
Washington Street Baptist Church
and Heartland Church in Paducah, Kentucky
THE CHALLENGE
Tear down racial stereotypes and promote friendships.
ONE BIG IDEA
Two churches combine congregations on the fifth Sunday of every month to encourage empathy, understanding and love.
In the wake of the unrest in Ferguson, Missouri, in August 2014, Senior Pastor Nathan Joyce of Heartland Church—a predominantly Caucasian congregation in Paducah, Kentucky—felt God pulling him to do something positive.
"The riots were happening two hours away but it felt like it was in our backyard. It hit home," recalls Joyce, who stopped by Washington Street Baptist Church, a predominantly African-American congregation, to see Pastor Raynarldo Henderson, a community leader for over 25 years. "We decided to do something to break down racial barriers."
The ministers committed to doing more than merely coming together for a reconciliation Sunday.
"We weren't interested in doing a worship service, followed by tea and crumpets," says Henderson. "We tend to put all white folks in a box and all black folks in a box and we make assumptions about who they are. When you spend time in fellowship together, you learn your assumptions are often false."
The ministers began combining their congregations on the fifth Sunday of the month to facilitate interaction and connection "and to tear down erroneous perceptions and stereotypes," adds Henderson.
They alternate services—one month having it at Washington Street Baptist, which typically attracts 150 people each Sunday, and the next time holding it at Heartland Church, a 2,000-member congregation. Following the first blended service, Joyce recalls how a Caucasian member approached him with tears in his eyes, shocked by how deeply God had touched his heart.
"Being face-to-face washes away the stereotypes and rhetoric that divides us," notes Joyce, who uses a biology class as an analogy for God's teachings. "The preaching is 'classwork'—the informational stuff. The worship services are the 'lab' where preaching is put into practice."
Though news stories and political viewpoints serve to polarize the population, Henderson and Joyce have witnessed how this outreach has healed hearts and bridged gaps.
"People feel the tension in the world and want to do something to improve it," says Joyce. "This gives them a proactive outlet to do so."