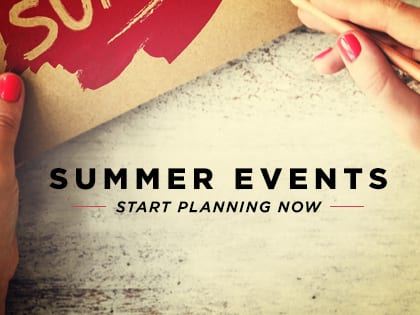 Give your community a good reason to come to church or a fun event during June, July and August.
Chances are your attendance takes a dip—or a dive—during the summer months. But unless your neighbors take three-month vacations, they're around, and they're often less busy than they are during the school year. So, give them a good reason to come to church or a fun event during June, July and August. And to maximize your success, start the planning now.
1. Decide on the event(s) and mark your calendar.
Some ideas:
Father's Day barbecue
Ice cream party
Outdoor concert series
Campout on church lawn
Fourth of July fireworks show
Classic car show
Outdoor church service
Outdoor movie nights
2. Secure a location if necessary.
If the event will not be taking place on your church campus, rent or save the appropriate space, receive permission from the city if needed, etc.
3. Ask for partners.
Depending on your event, can you reach more people in your community by partnering with another church—or two or three—or a community organization? If so, contact them now.
4. Estimate volunteers.
Create a general sketch of how many people you will need and where—both leading up to and including the day of the event. Consider everything from marketing and social media to food and follow-up. Ask two or three people to spearhead and manage the event.
5. Book the entertainment.
If using musicians or guest speakers, book them now! Outreach magazine's parent company, Outreach Inc., has an events division. For a comprehensive listing of available speakers, including Christian comedians, sports figures and more: Outreach.com/Speakers.
6. Map out the marketing plan.
Decide where you will promote the event—e.g., in services, website, Facebook, Instagram, area businesses, radio. Then create the timeline for when you will use each one.