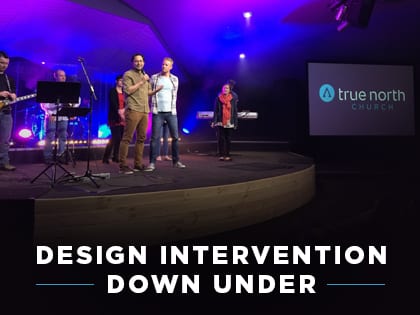 "Our hope is for people to see that the church is people who are contributing to the flourishing of the whole community."
As I write this, I'm flying across the island continent of Australia after having spent more than a week uncovering what God is up to in this amazing corner of his creation.
Outside of Sydney, I had a chance to celebrate the partial opening of The Woolshed, a former agricultural facility turned iconic music venue that had been abandoned, and is now redeemed as space given back to the community: Lighthouse Church, led by Pastors Paul and Annette Bartlett.
"We are passionate about our community and creating spaces where they can come, gather and connect," says Paul, who also serves as the national community engagement leader for the Australian Christian Churches and chaplain to the national basketball team, the Illawarra Hawks. It has been my privilege to discover, with him, innovative ways to do this, including designing buildings purposefully, to provide people with an immersive third space experience. Paul elaborates on this approach in his book Thank God It's Monday about making a difference beyond Sunday.
Prior to launching a multisite campus at the venue, the space was fully leased with the businesses Milk & Co Coffee, Woolshed Kitchen, Gypsy Flora Design and Fine Spun Catering.
After speaking at The Woolshed, I flew to the opposite coast to lead a spatial storytelling and master-planning workshop with True North Church, which has multiple locations north of Perth, Australia.
Leading the multiyear branding-to-building process "from the ether to the environment" has been particularly rewarding for me because of the close friendship I have developed with Pastors Dean and Lisa Groetzinger, Midwest American transplants who have found fertile soil for Christ-centered community in a largely post-Christian field.
"We knew we wanted to develop something that could become a hub for the community," says Dean, "a space that would connect across generations, cultures and socioeconomic divides. We knew we wanted to develop facilities that would be used not just one day a week, but seven. We knew that we wanted to create a space that would serve our entire community and be a blessing to the wider community."
Once again, I had the unique opportunity of seeing the nearly complete construction of their Merriwa site, which we helped design four years ago, as well as kicking off the master planning and "design intervention" of their existing Mullalloo site.
After leading a story-discovery workshop with key leaders, we articulated the three distinctive elements of their story: character, setting and plot. The resulting story treatment resonated with several of their leaders from different generations:
"At the western edge of an isolated continent there is a generous and courageous people, a tribe of believers who are on a journey to passionately pursue God's presence. In this place, called True North, this band of believers gathers around the fire to creatively share real stories that awaken wanderers from 'The Dreaming,' and allow them to belong."
"The Dreaming" evokes an aboriginal worldview while referencing the false illusion of "no worries" and the nonexistent faith of the post-Christian cultural context.
Both the northern and central properties will be rebranded and identified simply as True North, rather than as a "members-only Christian country club church campus." The church, licensed childcare, café and community event venues are designated as additional anchor tenants at the project entry points. Both feature a postmodern piazza—dubbed Compass Court—and will integrate a compass design into the hardscape and a central rock and fire feature designed to emulate a tribal storyteller circle in a contemporary way.
"Our hope is for people to see that the church is a group of people who are contributing to the flourishing of the whole community," Dean says, "and to lift the community through capacity building, through helping people connect with one another, through arts, culture, recreation or over a great cup of coffee. And as people experience all of this, we feel like they'll start to experience what it means to know God and his kingdom."
Mel McGowan, an Outreach magazine contributing editor, is the co-founder and chief creative principal of PlainJoe Studios, a multidisciplinary design firm focused on storytelling from branding to building.