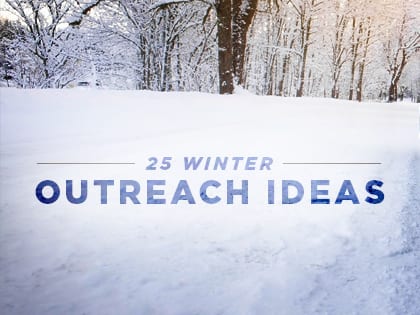 This winter and holiday season, try these 25 idea starters to reach your community in creative ways.
From the pages of Outreach magazine and OutreachMagazine.com, and from churches around the country, here are 25 winter idea starters to help you reach your community in creative ways.
1. Got snow? Use it!
Organize a weekly snowshoe or cross-country skiing outing for those who already go regularly, or offer lessons at a local park. Hit up the local coffee shop afterward and give people the chance to get to know each other.
2. Transform your church into temporary housing for the homeless.
If your church has a basement, gym or other open space, consider transforming it into "overflow housing" for local homeless shelters that fill up during the winter months.
3. Rescue cars stuck in snow.
On heavy snow days, send out teams with four-wheel drive vehicles. Using chains and other safety equipment, pull stuck cars out of the snow. Carry portable coffee urns or pots of hot chocolate or apple cider to warm up those you help.
4. Ask families in your church to host military members who are unable to go home for the holidays.
Contact a nearby military base to identify individuals and pair them with families.
5. Warm up commuters and mass-transit employees.
Head over to mass-transit stops and pass out free hot chocolate and coffee. Use cups or sleeves with your church's name on them.
6. Give communities in warmer climates a wintry experience.
One church rents 14 snow-making machines that drop fun, festive flakes at planned times during the season.
7. Throw an ice-skating party.
Rent the local ice rink for a day and offer your community free ice skating, Christian music, cookies and refreshments.
8. Provide snow-day childcare for families in a bind when snowy weather cancels school.
Connect with and serve working parents by hosting preregistered students for a free day of VBS-style activities.
9. Offer pet sitting during the holidays.
Encourage people in your church to offer free pet- and house-sitting services to their traveling neighbors.
10. Hold a Christmas film fest.
Feature family Christmas movies, and serve homemade Christmas cookies, coffee and hot chocolate.
11. Give away Christmas trees.
Work with a local Christmas tree lot to buy and deliver free Christmas trees. Ask local schools and your church to recommend families to receive the trees, and include a decoration box with lights, ornaments and a tree topper.
12. Defeat the Christmas spirit of consumerism.
Hold a gift fair featuring presents you can give to various families and communities in need—locally and abroad.
13. Hold a Christmas event at the mall.
Rent space at your local mall and host your own Christmas shopper outreach with free gifts, fun activities and free holiday portraits.