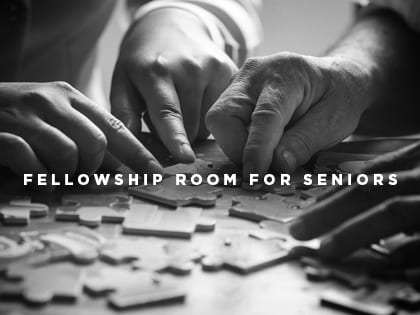 Immanuel Lutheran Church in Rock Falls brings seniors together for activities, community and engagement.
On Thursday afternoons, seniors come to Immanuel Lutheran Church in Rock Falls, Illinois, for activities, community and entertainment. The program is called Friendship Room, and it's a collaboration between several churches in the city and nearby Sterling.
As much as the program exists for elderly members of the area, there's another demographic targeted by the Friendship Room. "It's also a respite program for their caretakers," says Gerald Foskitt, a board member for the program and member of Immanuel Lutheran. "They can take grandma over for fun and have three hours to do their own thing and not worry about her for a while."
Related: Ministry offers practical and social support for senior caregivers »
Friendship Room kicked off this free program earlier this year, with a timeslot of 1 p.m. to 4 p.m. each week. It's enough time for caretakers to run errands, make appointments and handle other tasks typically made difficult with the needs of an aging loved one. After Friendship Room started, the program garnered six to eight seniors each session, with two directors and volunteers in the mix. "And it's gaining all the time," Foskitt says, adding that they're considering adding another day to accommodate interest from the community.
Foskitt says the ministry was inspired by a summer program run by a previous pastor at the church. Organizers curate activities that "stimulate the mind," from puzzles and crafts to games that encourage self-esteem, socialization and spiritual welfare for "guests" (which is the program's term for its participants). There's even a time set aside for exercise, packing those three hours with a rotating schedule of offerings each week. For those entering, background checks are run for both the seniors and volunteers, for safety reasons. Foskitt says he's been surprised by the turnout of community members who want to help out with the program.
"It's primarily people who work at home or are semiretired, because it happens during the day," Foskitt says. "But volunteers come from all walks of life. The people are just happy to be there, and we're all excited to see this happen."
Find more seniors outreach ideas »