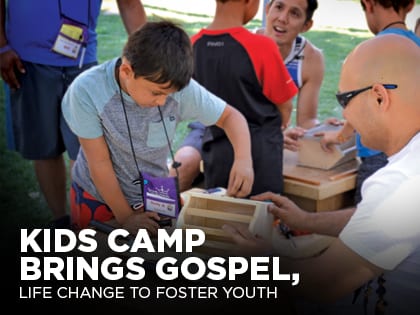 One foster youth purportedly left a Royal Family KIDS camp so transformed that his personality change stumped his psychiatrist.
"The boy smiled and looked him in the eye, and he was singing and humming tunes," recalls Glenn Garvin, vice president of camps, clubs and mentors at Royal Family, a Santa Ana, California, nonprofit that partners with churches to host weeklong summer camps and a mentoring program for foster children.
His cheerfulness was surprising because the 8-year-old had previously attempted suicide after enduring sexual abuse.
"When you put children with these backgrounds in this context with just being a normal kid, it changes them," Garvin says. "They're doing things they've never done before—going swimming or fishing."
Founded by Wayne and Diane Tesch in 1985, Royal Family has served more than 80,000 children. A former church leader, Wayne Tesch launched Royal Family after a churchgoer encouraged him to serve foster youth. The program began with 37 foster kids in one camp, and by the year 2000 it had expanded to 100 camps nationwide, with select international sites. This year, the organization will host 225 camps, each for up to 100 foster kids.
Jim Farmer, who directs the Royal Family camp at Rock Harbor Church in Costa Mesa, California, says the program allows foster youth to build relationships with caring adults. Some children immediately soak up the outpouring of love, while others take time to open up.
Campers learn about the Bible during their stay, but the staff doesn't proselytize.
"We just trust the Lord is going to do that work in them," Farmer says.