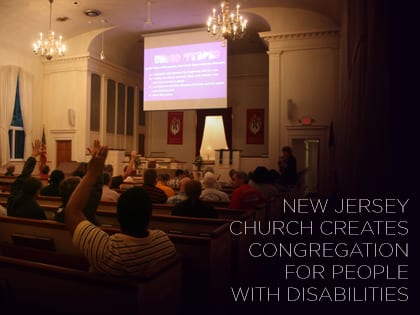 Friends to Friends Community Church in New Jersey welcomes people with developmental and physical disabilities.
Years ago a blind man came through the doors of Friends to Friends Community Church in Ridgewood, New Jersey. He returned to worship several more times, then stopped coming. When asked why, the man said, "Although I'm not able to read it, it bothered me that no one ever gave me a bulletin. I just want to be treated like everyone else."
These days those involved with Friends to Friends understand the notion of belonging better than ever. It's been a 20-year transition, but now the church's primary purpose is to welcome with open arms people with developmental and physical disabilities.
It all started two decades ago when the church, then known as The First Reformed Church of Ridgewood, was small and struggling financially. The congregation allowed a Sunday school for special needs children to meet weekly at the facility. As these children grew older, the church began offering worship for adults with disabilities. It started out meeting monthly for about 30 people and blossomed to weekly services with an average Sunday night attendance hovering around 70.
Joanne Van Sant, pastor at Friends to Friends, describes the worship service as being "contemporary for the unchurched." They stay away from complicated liturgy and prayers that members will struggle to follow and instead praise God by using music, movie clips and interactive question-and-answer sessions.
Most of the congregation comes from group homes around the area. Abilities range from very low functioning with little verbal communication to high functioning individuals who can live independently. "I feel comfortable here because I don't have to work to fit in [like I would in a traditional church]," explains long-time member Elsie VanderWeit. "Here, worship is designed for us, and we are equal."
Van Sant notes that those with disabilities express a joy that most of us easily lose sight of. As a result, when they worship, they openly convey awe. "The first time I delivered a message here and said the words, 'Jesus tells us,' you could have heard a pin drop," recalls Van Sant. "All 90 people in the sanctuary were holding their breath to hear what Jesus said. You don't get that in a typical worship service."
So often this community of people is overlooked. "We think of that one family who has a kid with autism, but it extends beyond them," says Van Sant. "There are millions of disabled people who are looking for a church home and want to feel included."
Van Sant says that the key to creating a welcoming environment for the developmentally impaired is to ask the necessary questions such as: Do we have transportation to get people here? Can we accommodate those who want to sing in the choir? Are we able to recruit volunteers who will sit with members and guide them through the service so they don't get lost? Are we familiar with the group homes in our community?
"That's where it starts," says Van Sant. "Once you decide you're going to be welcoming, you'll be surprised at who comes to your door."