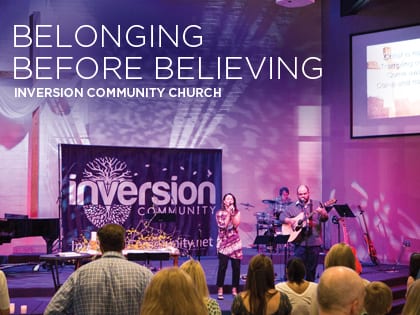 A Small Denver Church Attracts Attendees Through a Thriving Meetup Group
Pastor Casey Franklin never expected the New Jersey woman he'd become acquainted with to attend Inversion Community, his new church in Littleton, Colo. She grew up Jewish, with a poor image of Christians who condemned those who didn't follow their faith, Franklin says. But after he and his wife, Valerie, connected with her at a Meetup group, the East Coast transplant felt comfortable enough to attend a service.
"I was blown away," Franklin says. "She was the very last person I would have ever guessed would show up."
A few years ago, Franklin, a longtime youth pastor, felt a stirring to start his own church. His wife responded to his calling by suggesting that he start the South Denver Social Club, a Meetup group. Meetup is an online community that allows members to create social groups for the public based on specific interests.
Through their Meetup group, the Franklins have held burger cook-offs, Super Bowl parties and community service events. The South Denver Social Club boasts roughly 1,500 members, while Inversion has an average weekend attendance of 30, according to Franklin.
The pastor does not evangelize during his Meetup events, but faith-based discussions occur when he tells members about his work.
"All we do is build relationships," Franklin says. "We don't have a preacher or a Bible. We just hang out."
He does not object to Meetup members who have no interest in attending Inversion but notes that participants who've had bad experiences with Christians often ask questions about the church or take part in outings to serve the homeless.
"All those 'pagan people'—they're actually on mission with us and don't even know it," Franklin says.
Roger Hederstedt began attending Inversion a year and a half ago precisely because of its outreach to the unchurched. At Meetups "they find they're in a very safe place and a fun place, so it creates a positive image for the church as well, even though there's no overt evangelism," he says.
Lee Lownsberry connected with the Franklins in January 2014 and has attended Inversion ever since. "The whole ministry is focused on meeting people where the culture demands," he says.
Rather than require worshipers to subscribe to a set of unspoken rules about how they should dress, what they should believe or which activities they should avoid, Inversion Community welcomes all, according to Franklin.
His church challenges "this idea that you have to believe before you belong," he says. "You can actually belong before you believe. That's what we're doing with Meetup."