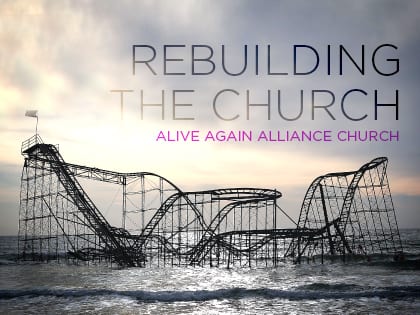 Bill Meyer: "We say that Alive Again exists for those who are not yet there. Our motto is 'Living out the love and life of Christ here, there and everywhere.'"
The Obstacle
Sixteen years after Pastor Bill Meyer and his wife, Christine, founded SonRise Community Church in Toms River, N.J., the little Christian and Missionary Alliance congregation was declining in number and trying to make changes they hoped would attract younger believers and grow the church.
Then Hurricane Sandy struck.
The second-costliest hurricane in United States history sideswiped the Mid-Atlantic states in late October 2012, killing almost 200 in the U.S., Canada and the Caribbean. In New Jersey alone, 34 people died as the superstorm damaged or destroyed 346,000 homes and cut power to more than 2 million households.
The Meyers' home was on high ground; it was the only house in the neighborhood with electricity and became a hub of care. Surrounded by flattened structures, downed trees and flooded streets, Pastor Meyer challenged the remaining 20 folks of SonRise Church in a series of sermons he called "Extreme Church Makeover." As an analogy, he pointed out the folly of returning to hurricane-damaged homes—with their mold, odor, peeling paint, shaky foundations—and thinking life could resume as it was. He told his tiny congregation, "We need to get down to the studs and build up."
That's exactly what happened.
The Opportunity
Our denomination came alongside us. We developed a relationship with Building on the Rock, a nearby Alliance church we had previously been a little suspicious of. They partnered with us through the yearlong period of disaster recovery. The senior pastor, Bob Nash, promised resources for our relaunch, including sending people—families and singles in their 20s and 30s—to build up our body.
I had to do a lot of soul-searching. Should we pay the price of having the new people—with their new culture and emphasis on outreach—or should we keep the old culture? My wife and I decided we had three options: 1) continue as-is and wait; 2) have the denomination declare us a "mission status" church, ending our independence and taking over governance and funding; or 3) encourage our existing elders to accept that recommendation (which would mean they would no longer be leaders in our church, so it would be a tough vote). They surprised me with a green light for change. We were declared a "redeveloping church" under supervision of the denomination.
I was given the title of redevelopment pastor. For about half a year a launch team and I met weekly for prayer and fellowship, and every other week we would visit an existing church, meet with its leadership, pick their brains and dream big—starting with a new name. We decided on Alive Again Alliance Church.
We underwent a complete redesign of the look and feel of the church. In March 2014, we had our grand opening services. About 120 people showed up. We now have about 75 regular attendees. Our new associate pastor, Brian Elias, is a gifted musician, and leads a contemporary-style worship service (although I have to say I miss the old hymns).
We say that Alive Again exists for those who are not yet there. Our motto is "Living out the love and life of Christ here, there and everywhere," and we focus outreach in the areas of education, athletics and the arts. We partner with Fellowship of Christian Athletes and have an anti-bullying program, and we're excited about launching a new Alive Again summer basketball league for high school boys.
We also started a nonprofit organization called Project Lazarus in response to a post-disaster increase in deaths from heroin and other opioid overdoses. The community partnership raises funds for "opioid overdose kits," for a residential aftercare home and to educate pastors and churches on how to deal with the crisis.
I believe we're on track to double our numbers by the end of 2016. Out of the devastation of Sandy, our Extreme Church Makeover invigorated us and prepared us to take faith-filled risks, including rebuilding a church "from the studs up."
—Bill Meyer, as told to Anita K. Palmer