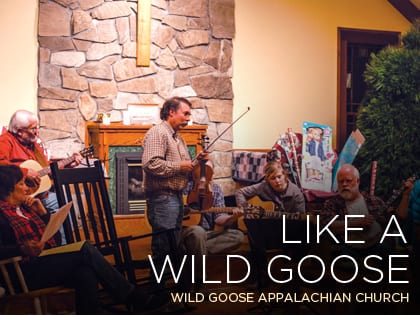 A Unique Congregation Welcomes the Spirit in the Appalachians
Three years ago, when Indian Valley Presbyterian Church closed its doors in Floyd, Va., Edwin Lacy, who had been working there as an associate minister, saw an opportunity to resurrect and transform the little country church.
"It was located in an interesting community with an eclectic mix of people, all drawn together by the Appalachian culture," says Lacy, who suspected he might attract members if the worship service was casual, nontraditional, and one that celebrated its local flavor.
Lacy became lead pastor and renamed the church Wild Goose Appalachian Church. His first order of business was replacing the pews with donated rocking chairs. "We have 40 rocking chairs of all different shapes and sizes," says Lacy. "Their diversity is representative of the way we welcome individuality."
They removed pulpit furniture and installed a fireplace, then hung quilts on the walls to provide a warm, welcoming vibe. "We wanted people to walk through the doors and feel at home," says Lacy. The congregation—roughly 35 people attend each week—gathers on Tuesdays and begins with a potluck meal. Worship follows, starting with the Lord's Supper.
"It's a great flow from physical food into spiritual food," says Lacy. "We form community around that meal, and I can't express to you how different that feels to come into worship as a community rather than as scattered individuals."
Music consists primarily of bluegrass gospel and old hymns that Lacy and congregation members play on fiddles, banjos and guitars. Communion is served in mason jars rather than goblets. And instead of preaching, Lacy leads discussions by sharing a piece of Scripture and asking the congregation how it applies to their lives.
"Understanding the [Scripture's] relevance to me is fascinating, frustrating and illuminating," says member Neil Sagebiel. "As I get older, I become more aware of God's grace and my huge need for it."
Member Roye Evans agrees. "Although I love traditional church, it feels like instructive time," says Evans. "Wild Goose creates space for quiet contemplation and learning from others—all in a God-focused worship service."
The church's name is a nod to Celtic spirituality, where the wild goose is a symbol for the Holy Spirit.
"Plus, a goose will bite you in the seat of the pants," adds Lacy with a chuckle. "And that's how the Holy Spirit works with us."
Lacy hopes that other experimental rural churches will be resurrected so Jesus' good news can spread into the next century.
"The fact that our church has gained national attention when we did nothing more than post fliers on local bulletin boards is an amazing affirmation of God's work," says Lacy. "God knew we would have an impact far beyond our little community."