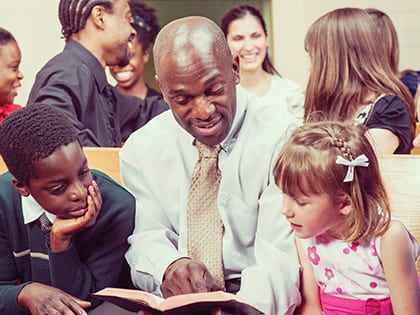 Pastors of color face unique challenges, but there are encouraging signs that they are beginning to overcome them.
Consider this widespread generalization: White Christians will not follow pastors of color, particularly African-Americans.
Sadly, I believe in the past this statement was true. Though, thankfully, it is not as much the case today, it remains the experience of far too many pastors of color.
In part, this generalization stems from the fact that only a handful of pastors of color rise to some level of national prominence or have widespread name recognition. Statements such as "I just want to know when white people are going to follow black pastors" and "I know of only a couple examples of pastors of color having a multiethnic congregation," are understandable, but tend to reinforce misperceptions. Such statements reflect a limited perspective of the broader landscape of local churches throughout the country. The truth is, pastors of color are leading healthy multiethnic churches—and white Christians are part of their leadership teams and members of their congregations.
THE CHALLENGES
Pastors of color seeking to plant or lead diverse congregations do face a unique set of challenges and must overcome certain obstacles not otherwise faced by their white counterparts. For these pastors, an extra measure of faith, courage and sacrifice is required to love, lead and serve people in their churches who may harbor biases, lack cross-cultural competence and espouse preferences rooted in privilege.
Inhibiting Stereotypes: When considering the challenges pastors of color face, sociologist Oneya Okuwobi says, "One such challenge involves organizational barriers and inhibiting stereotypes that limit their ability to execute a vision for the church. Previous studies have shown that the prototypical leader is viewed as white. As a result, congregants and boards may invest less trust in leaders of color. This constraint can manifest itself by way of informal or formal alterations to the senior pastor's role, leaving the leader of color with insufficient latitude to truly direct the organization."
Limited Funding: "A second challenge," according to Okuwobi, "can be lack of funding to sustain the organization. Racial gaps in wealth can create shortfalls for pastors of color who need to establish a strong financial base for their church," he says.
The Prestige Gap: "Pastors of color do not receive the same level of prestige for talking about issues of race, class and culture as do their white counterparts," Okuwobi says. "This can make it difficult for them to have the honest and open conversations necessary to move their diverse congregations forward."
White Reticence: "Finally, it is important to note that despite the change in leaders' complexions, we are not yet seeing a significant number of whites opt-in to majority minority congregations. This lack of reciprocity, too, reinforces the idea held by some that whites won't follow leaders of color."
COURAGE TO CONTINUE
Okuwobi concludes, "These challenges notwithstanding, it is encouraging to see the number of pastors of color increasing. This change should give us courage to continue to improve so that issues of race, class and culture do not prevent anyone otherwise able from leading effectively."
This situation hopefully will become one in which we'll see a biblical maturing of attitudes, expectations and practices in the years ahead born from personal relationships, deeper theological and cultural reflection and authentic reconciliation.
My optimism is fueled by a belief that the vast majority of Christians in this country genuinely love the Lord and want to do what's right. I'm also encouraged by the many wonderful pastors of color with whom I interact week to week who are planting or leading healthy multiethnic churches, such as Armando Arellano, Wesley Bolden, Sadell and Sherman Bradley, Edgar Brady, Ricardo Brown, Dawan Buie and Veronne Carter.
These are just a few pastors of color who have planted or are leading healthy multiethnic churches throughout the United States today. Some of these people you might not yet know but should—and perhaps soon—will.
Mark DeYmaz, an Outreach magazine contributing editor, is the founding pastor of Mosaic Church of Central Arkansas, president of Mosaix Global Network.