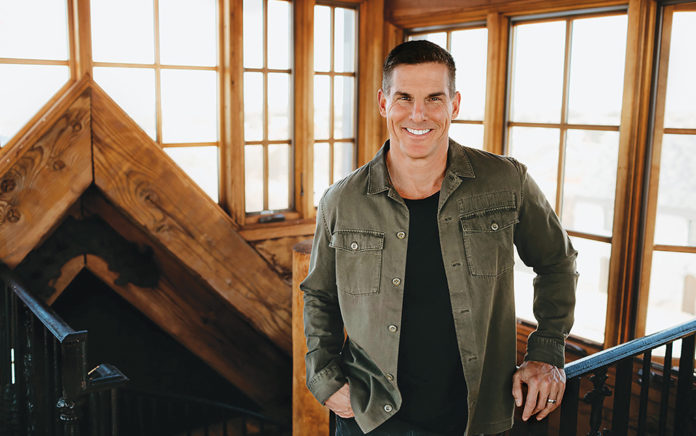 What does renewing your mind really mean?
Craig Groeschel is the senior pastor of Life.Church, a multisite megachurch based in Edmond, Oklahoma. He also hosts the Craig Groeschel Leadership Podcast and is a New York Times bestselling author of more than a dozen books. His latest is Winning the War in Your Mind: Change Your Thinking, Change Your Life (Zondervan). Here he talks about what renewing your mind really looks like.
It's interesting how people can portray a confident demeanor on the outside, but a lot of times, your thoughts are saying something entirely different. Like so many people I know, I was thinking thoughts that were counterproductive to God's calling for me. So I really became focused on changing my thought life from more unhealthy, negative and toxic thoughts to thoughts that are really God-honoring and would help propel me forward. Where I am now is the result of probably a six- or seven-year journey.
Scripture talks about renewing your mind, and God designed our mind to change when we work on it. Science teaches us so much about the mind, too: that it can create new neural pathways that make it easier to think the same thought again and again.
Scripture talks so much about where you fix your mind. If you fix your mind on God, if you fix your thoughts on things that are excellent and praiseworthy, he gives you perfect peace, and it changes the trajectory of your life. It changes what you believe. What you think about is going to determine how you behave. It's going to impact your relationships. Who does he say I am? What does he say is possible? What is true about me? What is true about you? What is true about our calling in life? It's about so much more than positive thinking. It's about having a God-honoring mindset.
You really have to start by identifying any place your thoughts would be inconsistent with God's truth. This is so much more difficult to do than most people realize, because if you believe a lie, then you think the lie is true. If I believe I am always going to be in bad relationships, that generally will be self-fulfilling. If I think I can never be physically healthy, that will likely be self-fulfilling. So a lot of times the environment we grow up in, what people tell us, shape how we think. So we have to start by identifying those places and those thought patterns that are inconsistent with God's truth, and that's really hard. It took me years to get to the root of where my thinking was off. Then we have to determine what is true according to God's word. The exercise I've done is to say really strong scripturally based declarations over and over. I've been saying them for years in my mind, because I believed lies for years, and I don't just change my mind in a five-minute period. It's taken lots of work to adjust my thinking.
When someone calls us pastor, that's a really big and a weighty title. I don't know very many pastors who feel worthy of that. I know I don't. We know our sinfulness and our own insecurities, so that title alone puts pressure on us. We often feel incapable of doing it justice, and there's a tension we live with. And then we find ourselves comparing ourselves to others on social media, and we feel like we'll never be as good as another pastor. Our church will never be as effective. That drives shame or insecurity even deeper. Any then, any time we fall into any kind of temptation and we do sin, then we have to battle with shame that's before us. That continues to beat us down.
We have to start with the realization that it is completely impossible for us to ever be good enough. We need grace and help. My journey toward a healthier thought life didn't come by myself. It came with, well, the last round was 18 months of a lot of counseling. That's not something I'm embarrassed to say. I think as pastors, if we're willing to offer counsel to others, then we should be humble enough to receive counsel from others.
If there is any kind of ongoing sin in a pastor's life, it's because we're believing a lie. That's the root of it. The belief that this sin is going to ease my pain, or bring me comfort, or help me cope, or whatever. And we have to acknowledge that and call it what it is. So much of overcoming sin is to renew our mind with truth. Jesus's way is better.
Most of life's battles are won or lost in the mind. And I think that's going to be true especially for pastors. I'm not going to preach a better sermon just by working harder. I want my mind to be so consumed with his truth that it's a natural overflow. Everything human about me, everything sinful about me, works against the truth that God says about me. And so that's why there's no area of life that I can just coast through and get better in. If I ignore my marriage, it doesn't get better. I have to work at it. If I ignore my finances, my finances don't get better, I have to work at them. If I ignore my physical body, it doesn't get healthy without choosing the right diet, physical exercise, sleep and such. So why in the world would I ever think if my thoughts are wandering, if I'm battling insecurities, if I'm believing lies, then my thoughts are going to naturally get better? I have to really put in the work to go before God and identify the lie, replace it with truth and seek him. What's amazing is he does the renewing. He changes the way we think. And I think that's one of the most important things we can do as a pastor: get our minds aligned with his truth first so we can help align others with his truth.