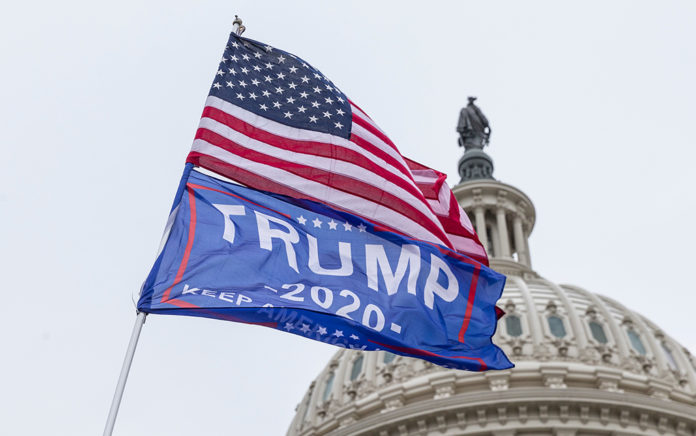 Darkness cannot drive out darkness; only light can do that.
OPINION
My birthday is on January 6, and I have no doubt that this year it was one for the history books. On my birthday, American citizens took over the U.S. Capitol Building where members of congress were preparing to confirm our nation's new leadership. The United States is a country that prides herself as the epitome of democracy on the world's stage, as evidenced by our fair elections and the peaceful transfer of power—or so the story goes. Yet on January 6, 2021, the world watched in horror as our nation and her leaders were assaulted by our very own.
Much has been said about the events of that day, and I suspect more will be written. I am not going to rehash the headlines here. What I will do is ask us, the American church (particularly white people in the American church), to face the truth: On this day, the American flag came down by a white majority group who raised up and waved the Confederate flag, Trump flags and banners that bore the name of Jesus. Ask yourself, Are these symbols or artifacts synonymous? Do they represent and mean the same things?
This day demands that the American church face the crisis of our conscience, that we name a thing, that we tell the truth and shame the Devil. Far too many Christians in this country have been discipled under nationalism while pledging their allegiance to political parties, while being drunk on power and worshiping at the altar of white supremacy. Take another look at the pictures, rewind the footage and listen to their words. These trespassers and domestic terrorists felt justified and vindicated in their actions. The only hope for them, the only real answer to their fears, is to respond to Jesus' call to faithful discipleship.
Jesus' discipleship requires that we give up our lives for his sake, his kingdom mission and the hopeful condition and love of our neighbors. The Word of God consistently informs us we need each other and we can't save ourselves. Eating fruit did not make us knowledgeable like God—it only exposed the darkness that we were incapable of handling. The truth is, darkness cannot drive out darkness; only light can do that.
Building the Tower of Babel did not make us more powerful like God. History has proven that we are poor gods unto ourselves. We are prone to wander, rule harshly (indeed violently), serve ourselves and do what is right in our own eyes. That's why we need not worship earthly kingdoms, powers or principalities. We must renew our minds and turn our eyes toward Jesus.
The entire Bible reveals this truth, and that's why I love the apostle Paul's discipleship journey so much. Paul's testimony reveals that we can be zealous for the Lord and completely wrong. I say again, we can be loud, violent, self-righteous for God, and be wrong. If we have any humility or wisdom, that statement should cause us to tremble, pause for a moment and ask the Lord, Is it me? We can pray the words of the psalmist, "Search me, God, and know my heart; test me and know my anxious thoughts. See if there is any offensive way in me, and lead me in the way everlasting" (Ps. 139:23–24). And wait for the Lord to answer.