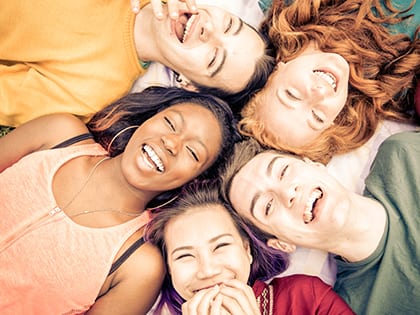 How do you know if your youth ministry is healthy? Here are three key components that contribute to a healthy group.
As time has gone on in youth ministry, the question always comes up, what does an effective youth ministry look like? What does health look like in youth ministry? The answer to this question can and will vary depending on who has asked and who is answering the question as well. However, being healthy in ministry should be the goal, let's look at a few thoughts on a healthy youth ministry.
First, let me get this out of the way "Bigger doesn't mean better". I write a whole chapter about this in my latest book on youth ministry, Youth Ministry Hindsight: 5 Things I Wish I Knew When I Started. However, I will just say that for years I thought the measure of success and health in youth ministry was the size of the ministry. I am very clear now that size isn't the only thing that makes a ministry healthy or successful. There are many larger youth ministries who just have a ton of students for other reasons but health isn't one of them. On the other hand you have smaller youth ministries who are very healthily and have a clear process for growth.
Furthermore, healthy youth ministry should consist of students who are in leadership throughout the ministry and the church at large. Healthy youth ministries also have students who exhibit Christian principles and practices in every day life. Lastly, a healthy youth ministry is mission focused with students having a clear understanding for their role in being the hands and the feet of Jesus Christ.
STUDENT LED
If you are going to have a healthy youth ministry it must but student led in every area of the Church. Students have to be able to do more than the common area, even though these areas are great, our students can do more. Students should be pushed to not just join the choir or praise team but lead and create their own to ministry to their peers and other age groups as well. Students should also be encouraged to teach and preach in the ministry so they can communicate the love and grace of Jesus Christ. Student leadership in healthy youth ministries isn't just limited to the youth ministry but these students also serve the boarder Church. They serve on Sunday's and during the week within other ministries so their gifts and talents are used throughout the Church.
CHRISTIAN PRACTICE
Students who make up a healthy youth ministry share the Christian practice (being Christ-like) not only in the ministry but also consistently in every area of their life. These students you will see praying for others outside of the youth ministry service or meeting. They will be sharing their faith online through their social media outlets and not just bringing their friends to the Church but leading their friends to Christ. Several of the students will be leading the other students in the ministry in spiritual practices.
MISSION FOCUSED
Lastly, it is my belief that a healthy youth ministry will be mission focused; they will be a youth ministry of service to the community and not just a youth ministry that does service projects. Service is a key Christian principle that helps to develop the faith of those serving and also spreads the message of Jesus Christ throughout the community. Serving the community throughout is part of the DNA of these ministries where the students expect to serve the same way they expect to have a worship service or a game night.
What did I leave out and/or what would you add? How healthy is your youth ministry?
Read more from Russell St. Bernard »
Russell St. Bernard (@PastorRuss09) is the youth minister at Reid Temple AME Church's north campus in Glenn Dale, Maryland, and the founder of After the Music Stops, a full-service youth ministry resource company dedicated to assisting leaders and parents as they serve their students.