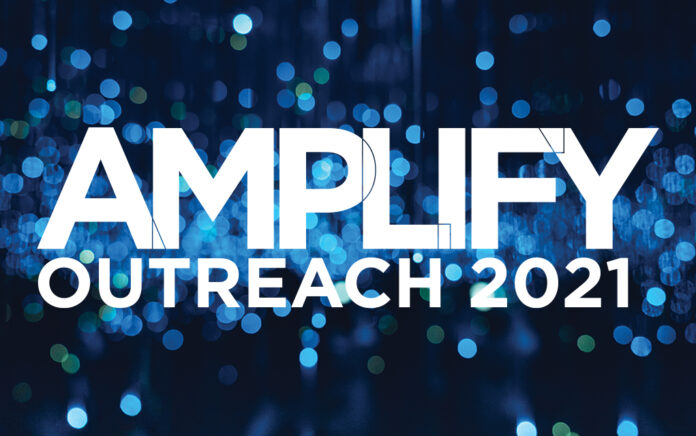 Highlights from Amplify Outreach 2021
The 2021 Amplify Outreach conference is taking place October 19th and 20th on the Wheaton College campus in Wheaton, Illinois. The conference, co-hosted by Outreach magazine and the Wheaton College Billy Graham Center brings together church leaders from all over the country to be encouraged and inspired to reach their communities and the world together, by hearing from the foremost thinkers in the evangelism and missiology field.
Day 1 of the conference featured talks from Ed Stetzer, the executive director of the Wheaton College Billy Graham Center and Editor-in-Chief of Outreach magazine. Stetzer set the table with his talk on the Great Sort that is occurring in the church in the wake of the pandemic, where one-third of churchgoers stepped up their volunteering and giving, another third are moving from one church to another based on the church's response to the pandemic and politics, and another third left and may not return. Stetzer is optimistic that during this period, which he names a "cultural convulsion" akin to the cultural convulsion of 1968 is a unique opportunity for the church to bring the hope of Christ to a world longing for the truth of the gospel.
The Day 1 morning sessions also featured Michael Henderson Sr., the visionary leader of New Beginnings Church, speaking on the power of intentional evangelism, and inspiring messages from Outreach 100 pastors Terry Brooks and Ben Snyder, on how their churches have innovated to reach the people that most churches are missing with the intentional love of Christ.
James Choung issued a call to prepare for spiritual awakening and revival through killing our expectations and raising our expectancy by aligning our will with God's will. In the evening, Brian Tome, another Outreach 100 pastor, challenged the conferencegoers to embrace the call to an adventurous faith, risk-taking faith that inspires people to get out of their seats and join Jesus in a difficult, unpredictable, unexpected, and yet surprisingly joyful journey to new places to reach new people.
One of the Day 1 highlights was hearing from Mark Mittelberg, the author of Contagious Faith and executive director of the Lee Strobel Center for Evangelism and Applied Apologetics at Colorado Christian University. Mittelberg emphasized that there is no one-size fits all approach to evangelism, but instead, at least five different contagious faith styles that God has equipped each of us with according to our natural personality inclinations. Each style has biblical precedents and they are as follows: friendship-building, selfless serving, story sharing, reason giving and truth telling. He encouraged conferencegoers that they didn't have to be Billy Graham to be used by God as an evangelist.
He then told the story of a young naval officer who grew up with an abusive, drunk father. The officer attended an evangelism crusade at the urging of a friend, and ended up giving his life to the cause of evangelism. Mittelberg later revealed that the young naval officer was his father, who through his simple obedience in sharing his faith and discipling his family has created a lasting legacy of evangelism that has borne fruit through Mittelberg and his siblings and on to Mittelberg's children, each of whom are involved in Christian missions and are reaching countless people. All because of the faithfulness of one man. Mittelberg called his father who was in attendance to the stage and he offered a benediction as well as a living example of the power of simple obedience.
For more information go to AmplifyOutreach.com.