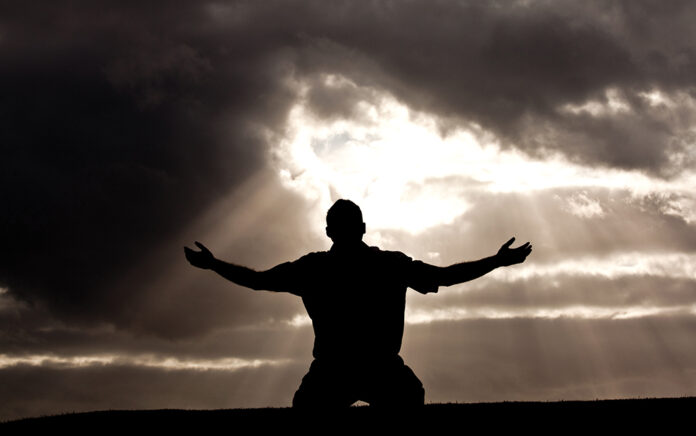 Building your relationship with the infinite God
As leaders, our lives are built on having an ever-deepening relationship with our Creator. That means we should continuously explore ways to move in the Spirit and be more effective in our ministries—to always yearn for "more." We must start by reflecting on what it means to actively participate in our relationship with him.
The Holy Spirit was sent by the Father to bring us into relationship through Jesus' work on the cross. This new life in Christ is a gift of God (Ephesians 2:8-9), but we also have our role in fulfilling God's purpose in our lives (Ephesians 2:10). Growth won't just happen to us; we must actively engage with the Father to receive a new purpose and power. However, many people today treat God as an add-on to what they consider to be an otherwise functional life—as if he were our cheerleader, emotional support system or in-case-of-emergency contact.
But the Father did not send his Son to die for us nor did he send the Holy Spirit to empower us simply to make a few minor tweaks to an otherwise good life. The Bible and our own experience are clear on this: We need a Savior and Lord, someone to save us from the powers, save us from ourselves and teach us to live in the freedom he has won for us. This is why Jesus came, and this is why he freely gives his Spirit.
But to receive all this, we must be willing to give up our old identities, plans and ways of functioning. We must be discontent with the status quo and long for more. We must reject the notion that happiness comes through independence and instead learn the joy of deep dependence on the empowering presence of the Holy Spirit without whom we can do nothing.
Emptying Ourselves
From start to finish, the Bible is the story of a relational God. We must come to him with only our need to commend us to him, and find him ready and willing to fill every inch of empty space with himself and his abundant, overflowing, extravagant life.
Therefore, we should view our relationship with God as a series of ongoing, complex, unique encounters with an engaging Father while avoiding a view of the Holy Spirit as a supplement to our daily lives. What we need—and what is offered to us—is a lifelong journey of knowing and growing.
Many New Testament writers spent more than three years walking around with the person they had come to understand was God incarnate. They had seen him face-to-face, eaten with him and talked with him as a friend. They had experienced intimacy with God in ways the patriarchs never could have imagined. It was in this context that they used words like "filled with the Holy Spirit" and "baptized in the Holy Spirit." They knew they were writing the next chapter in the same story, the story of a God of relationship.
One of the most moving scenes in the Bible is found in Luke 15. A father sees his lost boy returning home, runs down the road to meet him and wraps him in an embrace before the son can even finish his confession of his sin (Luke 15:21-22). This scene shows the lengths to which the Father will go (and has gone) to restore us to relationship with him. But the rest of the story tells us that none of it would have happened if the son hadn't gotten tired of the pigpen.
So, how do we choose relationship? How do we allow the Holy Spirit to fill us? We must begin by emptying ourselves. In John 15:5, Jesus told his disciples, "I am the vine; you are the branches. If you remain in me and I in you, you will bear much fruit; apart from me you can do nothing."
When it comes down to it, many of us act as if Jesus were being hyperbolic. Sure, "spiritually" we're lost apart from him, but we can do plenty of things without him. Or we just need him for the really big stuff when we're in over our heads. Or, worse yet, we just need a little bit of him—as one Instagram account touts—a "sprinkle" of Jesus to get us through our day. We need him when we need him, but for the most part, our lives are manageable without him.
We must admit that we are not OK on our own. Self-actualization is not the path to happiness; we do not simply need to "find our truth" to experience fulfillment. Contrary to what almost everyone is telling us these days, our way doesn't work. We were born into and acculturated to a system enslaved to what the Bible calls "the powers," and consequently enslaved to our own coping mechanisms and ways of dealing with life under the powers, which the Bible calls sin.
Choosing Weakness
The problem for most of us is that this kind of surrender and dependence doesn't come naturally. We're Americans. We grew up in a cultural context that celebrates independence as one of the highest virtues to which a human being can aspire. We are taught from an early age that we can do anything we put our minds to. And Western culture has told us the greatest good we can pursue is the actualization of our dreams by our own power.
This emphasis on independence can be remarkably handicapping when it comes to our relationships with the Holy Spirit. The kind of "apart from me, you can do nothing" dependence that Jesus describes is completely foreign to us unless one of two things happens.
First, the wheels can fall off our otherwise smooth ride through life. Inevitably, we all encounter moments and extended seasons when we realize how little we actually control. We experience a loss of a family member or a friend, we receive a scary diagnosis, we lose a job, we lose a meaningful relationship.
Some people respond to this level of adversity by turning away from faith and relationship with God. Others, conversely, experience a much deeper sense of desperation and dependence as they walk through hardship leaning fully into and on their relationship with God. With time, the latter often look back on seasons like these with a sense of both profound pain and profound joy—not bubbly, bouncing-off-the-walls joy, but the kind that James meant when he wrote, "Consider it pure joy, my brothers and sisters, whenever you face trials of many kinds" (James 1:2). This is the joy of dependence.
For many of us, we have never prayed with such desperation or passion, nor have we known the presence of God with such clarity or power, as when we've walked through pain. Depending on how we engage with these seasons—whether they drive us from God or to him—they can be productive in our lives. God, in his grace, redeems these times of pain by using them to produce in us dependence on his power and love.
Second, we can cultivate this dependence through daily discipline. Practices like fasting, Sabbath, tithing and silence and solitude are incredibly countercultural. They help us resist the culture of self-centered independence in favor of learning the kingdom culture of dependence on the empowering Spirit of God. As we practice these disciplines, we intentionally choose weakness in ourselves so we can experience the fullness of his power at work in and through us.
God has more for us. When we are talking about being in an empowering relationship with the infinite God, there is always more. But remember, he will only fill you as you surrender to him.
To read more about how to lead from an empowered life, download Empowered: Pastoral Perspectives on Life & Leadership in the Spirit at Exponential.org/Empowered. And to get more information about the upcoming Exponential Conference in Orlando, visit Exponential.org/2022.