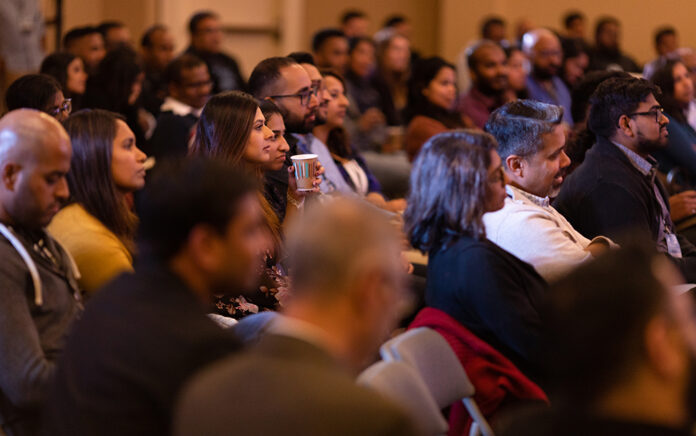 How the Advance Initiative is mobilizing Indian American church planters.
For the past several years, members of Jackson Heights Community Church (JHCC) in Queens, New York, have been reaching out to their neighbors through service. 
The neighborhood, considered one of the most diverse in America, covers a mere 300 acres, but it's home to some 108,000 people from countries such as India, Pakistan, Nepal and Bangladesh. So it's fitting that their community square is called Diversity Plaza. 
JHCC meets on the second floor of Kabab King, a Muslim-run halal restaurant, in a space that overlooks the plaza. Following in the footsteps of Jesus, church members have found that showing compassion for others––in this case through the act of wiping down tables, cleaning up trash and sweeping the streets––is a powerful way to get to know their neighbors and show them Christian love and community in a tangible way.
"To reach unreached peoples we have to create new pathways to reach them, because they're unreached for a reason," Pastor Boto Joseph says. "We can't do this by ourselves. We need the power of the Holy Spirit."
During the pandemic, JHCC discovered a new level of ministry opportunity unprecedented in Joseph and his wife Lisha's previous 13 years in the neighborhood. The church was able to deliver meals to the local hospital every Sunday and bring groceries to neighbors irrespective of their religious background. These simple acts of kindness and hospitality are the bedrock of the church's outreach efforts. 
"There is a power of longevity in a local neighborhood. We saw that tragedies can become opportunities, especially when you've been there for a long time," Joseph says. "We kept hearing from our neighbors, 'We really appreciate how generous the Christian community is.'"
Twelve years ago Joseph and his wife befriended a Hindu man at an ESL class. They journeyed with him over the subsequent years, sharing the gospel when they could. During the pandemic, the man and his family witnessed what the teachings of Jesus do in life of a Christian, and their lives were changed. Recently, Joseph baptized the man and his wife, along with their daughter and son. 
"It took the pandemic to get them to a place of giving their lives to the Lord," Joseph says. "They were the first people in their genealogy; it was quite a celebration." 
Joseph's own grandfather became a Christian when he heard the gospel message for the first time from Methodist missionaries while he was in the army in India. Joseph's family came to the U.S. in 2002 so his father could plant churches among South Asians. He came to Christ through that lineage of faith, and now is one of a growing number of Indian American church planters whose stories below demonstrate a growing movement of the Spirit aimed at mobilizing Indians to plant churches to reach the nations. 
Diaspora Christianity
Linda Bergquist has been involved in planting churches for over 35 years. She serves as a church planting catalyst for the North American Mission Board, working with a variety of South Asian groups in the San Francisco Bay Area, teaching them to plant churches and become cross-cultural missionaries.
"We have so few churches reaching Indians, and it feels like such an oversight," Bergquist says. "The biggest issue is that we just don't realize how many South Asians there are. How much the population is growing. We haven't thought about the opportunity we have to reach people from the least-reached country [India] in the world."
Since India gained its independence in 1947, there has been an explosion of Indian emigration around the world. According to the United Nations, today India has the largest diaspora of any nation. The U.S. is home to 5 million Indians, and 1 million (20%) of those are Christians.
"There was a time when we sent our best to the ends of the earth," Joseph recalls hearing someone say of the global church. "But we're living in a time when the ends of the earth are sending their best to us."
Sam George, a first-generation Indian American, is director of the Global Diaspora Institute at the Wheaton College Billy Graham Center. He studies these movements of global Christians and notes that more immigrants have come to America in the previous 10 years than all the previous decades combined. As he sees it, this is a very good thing.
"American Christianity is a diasporic Christianity. Wave after wave of immigrants have constructed and reconstructed it," George says. It "is renewed, refreshed and invigorated by migration and migrant Christians."
A Vision for the Indian American Church
Ajay Thomas was raised in a first-generation Indian church surrounded by parents, grandparents and older cousins who were serious about their faith. He got saved at the age of nine at a Billy Graham Crusade in Long Island. As he matured in his faith, Thomas figured he would become a priest, missionary or campus ministry worker. 
After college, he attended seminary at Gordon-Conwell, and as part of a practicum, he visited Seven Mile Road Church, an Acts 29 church plant outside Boston. It was there where he became "born again, again," as he gained a deeper understanding of grace, and God refined his vision to focus on church planting. As he invested in the church, Thomas learned what church planting was and began to envision it as something an Indian American Christian could do.
"To reach unreached peoples we have to create new pathways to reach them, because they're unreached for a reason."
In 2003, he discussed with a group of friends who were also second-generation Indian Americans the shared burden God had given them to reach their Indian peers and how to best go about it. They could all disperse and join established churches; or they could become priests in their parents' largely monocultural immigrant churches, working to invigorate them and give them a vision for the nations. Finally, they chose a third option—to plant new multiethnic churches infused with a DNA of gospel centrality, missional living and genuine community. Over the years, they regularly got together to encourage one another along the way.
In 2008, Seven Mile Road sent Thomas and his wife, Shainu, to plant a church in Philadelphia, home to a high concentration of Indian Americans. Thirteen years later, the church is thriving and is made up of 50% Indians and 50% other ethnicities. 
As more of the group began to make plans to plant churches through various networks, they were reminded that though many thriving networks were doing great work, there was still an ever-growing population of largely unreached Indian Americans that they were best positioned to reach. They needed some way to pool their collective knowledge and resources to catalyze a church planting movement.
"It felt to me like when we were starting, the number of gospel-centered multiethnic churches that were led by an Indian … I think you could count them on one hand; it just seemed so small," Thomas says. They wanted to "try to expose that need and that gospel opportunity."
Advancing the Gospel
Sam Chacko, a project manager at Stadia and lead pastor of LOFT City Church in Dallas, was a key member of that team helping to envision what an Indian American church planting movement would look like. He met Thomas at a conference, and they formed a fast friendship. 
In March 2011, Chacko and his wife Ann launched LOFT City Church in a Dallas storefront. Though they expected 150 attendees, only 20 showed up. So the Chackos toiled for two years with those 20 people, struggling to keep the church going. They tried to merge with several churches, and even considered moving back to Ann's home city of Dubai.
"We're living in a time when the ends of the earth are sending their best to us."
One day, Sam gave a talk at an InterVarsity event and invited a young Latina who had never been to church to visit LOFT. A few months later she was baptized and became a "gospel light bulb," inviting scores of her friends. By the time of the pandemic, the church had grown to 150 people in regular attendance from 30 ethnic groups. This past June they sent their 13th individual to missions and church planting. 
Chacko drew upon these early struggles and later successes as he, Thomas and several others started the Advance Initiative in 2015 to serve as a catalyst to get Indian Americans interested in ministry connected with established church planting networks. 
"When I was struggling or discouraged, Ajay was someone that I could always lean into and rely on," Chacko says. "We didn't have a lot of father figures, but we knew that God had allowed us to go through a lot of our experiences so that we could serve as father figures and mentors and encouragers for the next generation."
An Evangelistic Passion
In Right Color, Wrong Culture, Bryan Loritts says it's essential to have people who are "culturally flexible and adaptable without being ethnically ambiguous or hostile" in the upper echelons of any multiethnic organization. In a nation like the U.S., which is conservatively projected to be a majority-minority country by 2050, those skills are only going to become more essential in the coming decades.
"Indians are rising in every realm of society, including church planting. They have pursued their parents' dream, and now they are subsequently being called to ministry," George says. "An evangelistic passion is welling up among first- and second-gen immigrants. Their multilingual, multicultural sensibility is an amazing asset."
Scott Zeller, director of Acts 29's emerging regions training center and a pastor at Redeemer Church of Dubai, says, "One of the main reasons the Indian diaspora has potential [as church planters] is that there's a nimbleness to their cultural diversity. They can plant churches in a variety of contexts and not be intimidated because of their diversity."
"An evangelistic passion is welling up among first- and second-gen immigrants. Their multilingual, multicultural sensibility is an amazing asset."
In addition to their multicultural strengths, there's a deeper advantage to Indians planting among other South Asians: decoupling Christianity from its colonial, white, Western associations in many immigrants' minds. Tony Thomas, an Indian American church planter in Atlanta, has spent much of his ministry career reaching out to college students from various South Asian countries, many of them Hindus. He has found that one of the initial obstacles to faith in Christ starts in the imagination.
"Some of my friends couldn't even conceive that you could be Indian and not Hindu," he says. "That you can follow Jesus and fully embrace your ethnic identity helps to reduce one more barrier to the gospel." 
A Church for the Suffering
When the Advance Initiative got started, Jason James led breakout sessions at some of the early conferences and later became part of the advisory council. In 2017, he had just become the lead pastor at a predominately white church in the Upper West Side of Manhattan. As he spoke to 150 church leaders at the conference who looked like him and came from a similar background, and shared a lunch of Indian food with them, something stirred within him. He'd been to countless conferences geared toward reaching cities and none of them had ever served Indian food for lunch. 
"It was the first time I heard people have gospel conversations about reaching their cities over the smell of curry," says James. "To me it was like the Lord saying Indians have a seat in the kingdom and in what God is doing in America."
Within a year of taking over as lead pastor, it became clear that James' church wasn't thriving, and God was calling them to assemble a team to start a new church. A team of 15 from that church met in 2019 to discuss a new church plant. After struggling to find a semi-permanent location, they were finally able to get a banquet hall and launched New Hope Church Harlem on March 1, 2020. Within a couple weeks, they had to stop meeting in person due to the pandemic.
"That you can follow Jesus and fully embrace your ethnic identity helps to reduce one more barrier to the gospel."
The church decided to pivot, taking the money they had earmarked for Sunday services and using it to partner with local businesses to help essential workers and support people in need in the community. In January 2021, they started a food pantry in partnership with NYC Love Kitchen that serves over 1,000 people per month. The church began to meet in person again last July in the second floor of the café of a woman they had partnered with during the height of the pandemic.
"We are the church born in suffering for those who are suffering," James says. "We want people who are weary to take notice of us and find Christ."
A Seat at the Table
Since the genesis of the Advance Initiative, they've been able to help plant a handful of churches, and 20 ministry leaders have participated in their cohort. In the next five years they hope to see 20 new gospel-centered multiethnic churches planted.
"There is a need to plant churches to nurture second-generation Indians. Seventy-five to 80% of second-gen Indians drop out of church," George says. "They love the relational aspect of the church, but don't fit into their parents' church or the American church. They struggle to find a place to call their own."
"It was the first time I heard people have gospel conversations about reaching their cities over the smell of curry."
Ajay Thomas has found that creating that sense of belonging is critical not just for Indians who grew up in the church, but also for reaching South Asian immigrants from other religious backgrounds. 
"We grew up with community being so essential. It was so common for your home to have people in it all the time. You honored people by inviting them to your table," Thomas says.
Finding and cultivating that sense of belonging in the kingdom of God has also been key to his and many other Indian Americans' journeys to church planting. Thomas is thankful for the people who came before him and the way they came alongside him to inspire and encourage him. And he is hopeful that the leaders of the Advance Initiative can provide that same encouragement for a new generation of church planters.
"Twenty years ago I didn't know what church planting was. I didn't know I had permission for it. I certainly didn't know I had a role in it," he says. "To me it feels like if we can build a runway that can let the next generation see 'You have a role in this, and you have a path to this,' that's what we would love to do."