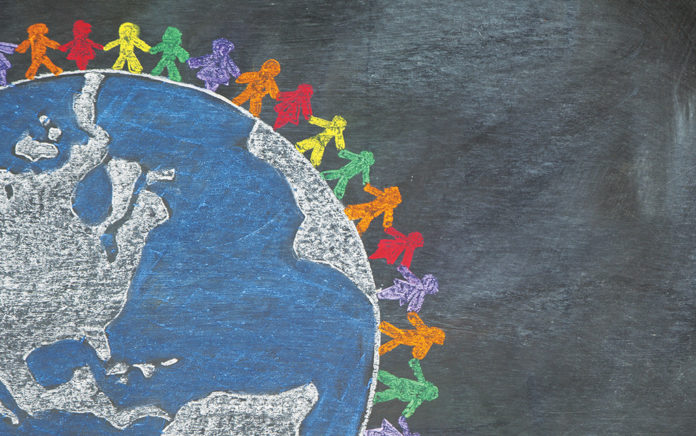 To see a church planting movement in the West, churches will need to work together.
Throughout 2020, Exponential will continue the mobilization conversation as we focus on the importance of collaboration. If we're going to see a church-planting movement in the West, churches will need to work together. One of the best ways we can accomplish this is through networks. Dave Ferguson, who leads Exponential's annual conference, shares five ways the church can benefit by joining or starting a network.
Changing the world is more than any one of us can do alone—but it's not more than all of us can do together. Still, it's going to require action, effort and initiative, because the Great Commission won't be accomplished by just one leader, one church, one denomination or one network. We are going to have to work together.
The reason I believe in networks so wholeheartedly is because I have seen them work both firsthand in NewThing, the network I lead, and in other networks. I could not be prouder of the work that Greg Surratt and my friends at the Association of Related Churches (ARC) have done over the last few years, including planting more than 800 churches at the time of this writing. I am also grateful to Greg Nettle and Tom Jones of Stadia, which has created some brilliant free resources to help new churches get started.
We could name dozens more networks that are multiplying churches in the United States and abroad. The church multiplication that is happening is first and foremost because of God's remarkable favor, and second, because of how he is working through reproducing networks to create an infrastructure for movement. But we need more leaders and more networks planting churches together.
When we collaborate, we can experience five major benefits.
1. Networks Dream God-Sized Dreams.
Every network I have seen come together has always had a bigger dream than any of its individual parts because church-multiplying networks attract leaders who have a common vision for accomplishing the mission of Jesus through church planting.
When church leaders come together, this synergy creates tremendous enthusiasm. These leaders are experiencing what Matthew 18:20 describes: "Where two or three gather in my name, there am I with them." God shows up in a more profound way than when we go it alone. In a network, leaders experience the presence of God, and he gives them a vision of what they could accomplish together.
Let me give you an example. In Albania, less than 1% of the country's population identifies as evangelical and there are only 300 evangelical churches. Albania is also predominately Muslim. One might say there is no vision for church planting in this country.
It is in that context that my friends Altin Kita and Kejdis Bakvalli are leading a movement of small church-planting networks that are dreaming God-sized dreams. Altin and Kejdis both planted churches. Each church saw some growth, but they both longed to see church-planting movements not only in Albania but also throughout the Balkans. So these two apostolic leaders came together to form a church-planting network.
They explain the process: "It all started very small with asking each other 'what if' questions: What if we trust God to see the number of existing churches dramatically multiply by 2020? What if we trust God to see one church per 10,000 people? What if we reached out to other leaders and shared our big dream?"
With this big dream, they began to see a movement of multiplying churches. Over the next five years, they saw 73 new churches started in Albania, three in Montenegro, three in Kosovo and eight in Macedonia. And Altin and Kejdis have visited and shared their vision in Croatia, Slovenia, Serbia, Bosnia, Bulgaria, Israel, the Republic of Georgia and Greece.
2. Networks Produce Friends on Mission.
Many people mistakenly believe that if we just bring people together to create community, mission will result. Actually, it's the opposite. If you bring people together around a mission, community will result. Community doesn't create cause; cause creates community.
One of the great benefits of a church-multiplying network is that you get to be part of a growing group of friends on mission together. I first heard my friend and colleague Joe Wilson use the phrase "friends on mission." Joe has helped catalyze scores of new networks around the world. Integral to his work is helping leaders become friends on the mission.
Let me tell you about two church-planting friends, Troy McMahon and Dan Southerland. Troy and Dan are the best of friends. The cause of multiplying new churches and God's Spirit prompted these two leaders to start two, soon to be three, church-planting networks in Kansas City. In just five years, these networks have helped bring to life 34 new churches in the Kansas City metro area while Troy and Dan have mentored many other network leaders across the country.
3. Networks Diversify Church-Planting Risks.
Anyone who has started a church knows that church planting is risky business. Many leaders want to plant new churches, but they tend to be cautious because starting a church often requires a significant investment of finances and people.
But when you're a part of a network, you immediately mitigate the risk involved. First, you have the collective wisdom of a group of people who know church planting. As a result, you'll be better qualified to know which new churches have the best chance of being successful and what kinds of resources you should allocate.
As part of a church multiplying organization, you also will be part of starting many churches. While some churches may never make the impact you hoped (and prayed) for, because you have invested in lots of new churches, you will have far more that are making a big impact in your city.
4. Networks Focus on Clear Outcomes.
When we're answering to other people, we do things we don't do on our own. Accountability gets results. It's why we talk to a counselor. It's the reason we hire an executive coach, and what makes a personal trainer so valuable—they get results from us we wouldn't get on our own. Church planting networks work the same way. They help us do things we wouldn't necessarily do on our own.
Pastor Nuel Manufor left a thriving megachurch in Lagos, Nigeria, after he had a clear call from God to start a church-planting movement. In the first few years, his new church, Covenant Light, planted a total of four churches, but it had to close two down. Nuel wasn't sure what was going wrong.
That was when he met Matt Millar, the Sub-Saharan Africa regional director for NewThing. Matt shared with Manufor how he could multiply small church-planting networks. Then things started to explode. The initial network started with five churches; now each of those churches has accepted the challenge to start their own network.
These networks began focusing on planting rapidly reproducing churches throughout the city and the country. Not only were they multiplying churches, they were also multiplying networks. Recently, Covenant Light launched seven new churches all on the same day.
5. Networks Are All About God's Kingdom.
Networks build the kingdom, not individual castles; networks build the kingdom by tearing down the walls that divide. I originally wanted to lead a church that had 200 locations, partially because the Spirit inspired me, but also because this vision was encouraged by my ego. The possibility of that castle had to come crumbling down so that I could focus on building God's kingdom.
Now I'm part of a collective of four church-planting networks in Chicago that have a God-sized dream of more than 200 new churches in the suburbs and city of Chicago. These diverse networks are multidenominational, multicultural and multi-socioeconomic. We have megachurches and microchurches.
Think about how you are reaching your community for Christ—and how much more of an impact you could have if you worked with other churches. I have seen what God can do through leaders who sincerely believe we are better together. Collaboration is the key.
Read more from Dave Ferguson »
This article is based on Exponential's new free eBook Together: The Great Collaboration by Dave Ferguson and Patrick O'Connell. To download your copy, go to Exponential.org/together-book. The theme for the 2020 Exponential Global Conference is Together: Pursuing the Great Collaboration. For information and to register, go to Exponential.org/2020.