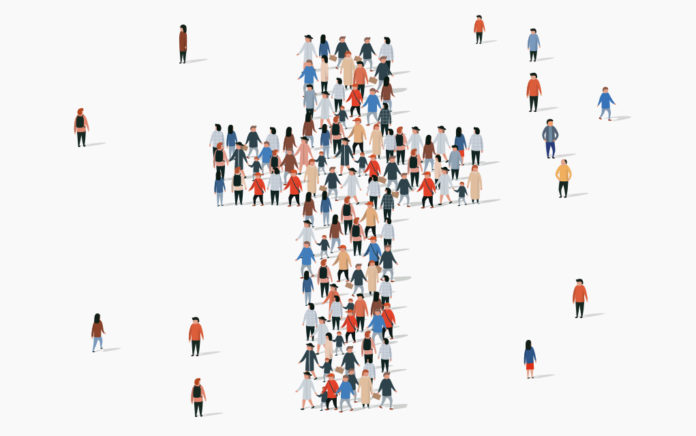 It's critical for us to work together for kingdom multiplication.
We have been in an exciting conversation this month with Dave Ferguson and Patrick O'Connell about the Great Collaboration: how God relates in togetherness and how critical it is that we work together for kingdom multiplication. Dave and Patrick have learned first-hand that networks are one of the best ways to live out the Great Collaboration, partnering with other leaders and churches to have greater kingdom impact than one church could achieve alone. Today, we look at Part 1 of 10 Models of Networks.
Consider this: More networks will lead to more churches being planted. That's why we want to help you get into a network. Our goal is that no church tries to accomplish the mission alone. There is simply too much at stake.
The best way to help you select and join a network is to take you on an abbreviated tour of the various network models. Each is unique; each has strengths and weaknesses. The locus of control is different in each one; the interdependence is different. The way participants interact is different. That's the beauty of having all of these available. But I can say with confidence that all of them have a goal to synergize efforts of leaders and churches for greater kingdom impact.
As you read about these five network models, ask yourself: Which one best fits me and the people I'm leading? Then catch our next article where we'll unpack the remaining five network models for you to consider. Now let's get started.
1. The Collaborative Network
Collaborative networks are comprised of independent churches that have adopted a common mission (church planting or some other mission focus) and are willing to collaborate on various levels to achieve the goal. The churches in the network are autonomous yet interdependent when it comes to achieving more together. Because they align around a common mission, churches in this kind of network can overcome their differences and work together as "friends on mission." Collaborative networks generally decline to take positions on most theological and ecclesiological issues to minimize barriers for potential affiliates interested in joining them. Mission and diversity are highly valued and success stories feature both themes prominently.
Examples of collaborative networks:
• Ignite Church Network: Ignite desires to create an intentional church multiplication network that unites churches who are passionate about transforming their community with a new generation of churches focused on the transforming gospel. IgniteDiscipleship.com
• M4 Europe: The vision of M4 is to start multiplying church planting movements throughout Europe. They work across denominational and theological boundaries to see new communities of faith that will display the goodness of God to the people around them. M4Europe.com
• NewThing: A catalyst for movements of reproducing churches that starts and sustains small collaborative networks, which plant new churches. Churches in NewThing align themselves around values, relationships, reproducing, residency and resources. NewThing is a global movement with networks in thirty countries. NewThing.org (Dave Ferguson is the visionary for NewThing.)
2. The Regional Network
Regionally based networks organize themselves by geography. Often, the goal is to reach the region for Christ. These organizations see the intersection of mission and relationships as critical, encouraging churches in close geographical proximity within their network to collaborate to plant churches. Churches in the same area "own" their geography and often regularly encourage each other through small gatherings.
Examples of regional networks:
• BCNY: Churches are working together to plant new churches in New York, New Jersey and southwest Connecticut. PlantNow.org
• Carolina Movement: The Carolina movement is on a mission to plant 100 new churches in both North Carolina and South Carolina by 2028. TheCarolinaMovement.com
• Christ Together: Churches are a unified collective with the goal of reaching every man, woman and child in the region with the gospel. Churches own the "lostness" in their community and network together to do something about it. ChristTogether.org
• Christian Evangelistic Missions: CEM is endeavoring to reach Iowa by planting churches with a heritage and theology based on the Restoration movement. CEMChurches.com
• Restoration House Ministries: This network is planting churches in New England with the goal of changing the region's spiritual landscape. RHMNewEngland.org
3. The Cooperative Network
Cooperative networks exist to bring together churches and leaders to plant more churches. Generally, the network centralizes the recruiting, training, funding and planting of churches to increase success rates and leave less resources to waste. Churches within these networks often affiliate based on shared theological or ecclesiological values. Usually, member churches help fund the network, which funds future churches. Churches in cooperative networks generally remain in relationship with one another and are led by a centralized board or leadership team.
Examples of cooperative networks:
• Association of Related Churches: ARC is an association of churches working together to plant churches by providing support, guidance and resources to launch and grow new churches. ARCChurches.com
• Calvary Chapel: This network is made up of like-minded pastors committed to the advancement of the kingdom and the fulfillment of the Great Commission through church planting. The network provides resources and training to help church planters and pastors more effectively fulfill their call and ministry. CalvaryChurchPlanting.org
• Church Multiplication Network (Assemblies of God): Their mission is to equip, fund and network leaders in the church with the ultimate goal of multiplying the kingdom of God across the United States. ChurchMultiplication.net
• Converge: Churches work to help people meet, know and follow Jesus by starting and strengthening churches together worldwide through church planting and multiplication, leadership training and coaching, and global missions. Converge is one of the oldest cooperative networks. Converge.org
• Excel Leadership Network: Excel is a coaching cooperative with a specific calling to support and care for the church planters in the network. They are convinced that kingdom growth is dependent on supporting high-caliber leaders. ExcelNetwork.org
• Generate Network / MCUSA: Generate exists for one purpose: to equip churches and church planters so they can see the vision God gave them come to life. They are aligned around the mission, not methods. They cooperate to multiply disciples, churches and networks to the fourth generation. They accomplish this by funding, coaching, training, networking, credentialing and resourcing churches and church planters. MCUSA.org/Generate
• Greenhouse Church Planting Network: Greenhouse is a relational cooperation of churches working together to transform lives and communities through disciple making and church planting. GreenHousePlantingNetwork.com
4. The Franchise Network
Franchise networks capture and reproduce the strengths of successful churches, usually birthed directly from them. The churches in these networks develop a model of critical distinctives and plant churches that are strongly aligned with those distinctives. Often, churches share a name, distinguished only by their locations; and a central leader will play a high-profile role in expanding the reach of new churches. The network may or may not prioritize church planting.
Examples of franchise networks:
• The C4 Network: Based on Ohio, the C4 Church Planting Network is a movement birthed out of C3 Church as a means to help fulfill the vision to multiply disciples, leaders and churches in Columbus, Ohio, and throughout the state. They exist to partner like-minded kingdom leaders and church planters to reach new people in Ohio. TheC4Network.org
• Catch the Fire: Based in Toronto, this charismatic family of churches is led by Duncan and Kate Smith and a team of seasoned leaders who form the World Lead Team. This team is deeply rooted in key Catch the Fire churches around the world and regularly meets together online to bring vision and leadership to the movement as a whole. CatchTheFire.com
• Hillsong: The Hillsong Network provides resources to help churches grow healthy. Network.Hillsong.com
• New Frontiers: This UK-based movement is a group of apostolic leaders partnering together on global mission, joined by common values and beliefs, shared mission and genuine relationships. They plant churches, train planters, specifically cultivate apostolic leadership (Eph. 4) and minister to the poor. NewFrontiersChurch.com
5. The Church-Based Network
Church-based networks are built out of the strong church planting efforts of a rapidly reproducing church led by a visionary apostolic leader. The reproducing church's plants relationally affiliate with the leader and may help start additional new churches. These networks differ from franchise networks because the role of the central church's model and leader is not as prominent. Instead, the church-based network focuses on a handful of mission-driven and theological values, leaving the church plant more room for contextualization, yet keeping a clear identity and alignment with the founding church.
Examples of church-based networks:
• Gateway Network (Gateway Church): Gateway comes alongside pastors to ensure health by sharing resources, coaching and training. This network of churches meets regularly for prayer and training. GatewayNetwork.com
• Kensington Church Network: Kensington is a network of related churches that were all planted by Kensington Church in Michigan. Kensingtonchurch.org
• Real Life Ministries: An outgrowth of Idaho-based Real Life Church, Real Life Ministries is both a multisite church and disciple-multiplying ministry. RealLifeMinistries.com
• Summit Network: The Summit Network is a ministry of The Summit Church based in North Carolina and exists to be a tight network dedicated to planting 1,000 churches together. They are a group of churches working closely together around a common identity and vision. TheSummitNetwork.com
• Thousand Churches Network: Founded by Cherry Hills Community Church in Colorado, this network has the goal of planting 1,000 churches around the world by 2050. They do not target a geography. Rather, the network identifies leaders with the right fit and chemistry and provides funding, training and coaching. ThousandChurches.net
Go back through this first half of network models and examples and check out their websites. Then begin praying how you can be part of one. I urge you—don't go it alone for another day. Our hope is that once you have spent a little time learning about the 10 models, you'll be convinced it's the best way for you to have the greatest kingdom impact. Stay tuned for our next article and the remaining five models.
Read more from Dave Ferguson »
Reposted by permission of Exponential.org.