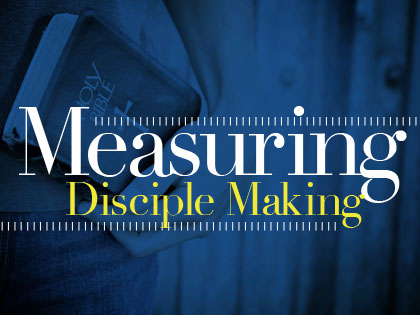 Dave Ferguson: "How do you know if what you're doing as a leader is actually advancing the kingdom?"
Most church planters and church leaders I meet work very hard—in many cases, probably too hard. The majority of them are well prepared both theologically and practically for ministry. But here's the problem: Most church leaders—wherever they are in the planting process—don't understand how they can know for sure their church is advancing the cause of Christ. They just don't know how to keep score. In fact, for many, the idea of keeping score is a mystery.
I hear more and more pastors questioning, "Is just keeping track of attendance and offering enough?" It seems like there should be more or different measurements. What about community transformation? Justice issues? Sending missionaries? Should church planting count? Should I stop keeping track of attendance? Do I dare not keep track of finances? Ultimately, how do we know if we are accomplishing Jesus' core mission to "seek and save the lost" (Luke 19:10)—making disciples who make disciples?
Sometimes in our frantic hurry of ministry, we get disoriented. We try to do the stuff that makes an impact, but one look at the scoreboard tells us we're falling further behind.
I'll be the first to say that faithfulness is the sole measure of winning. But that begs the question, "Faithful at being and doing what?"
If you're creating a scoreboard for the first time, start with a disciple-making measurement. It may take you several months or even a couple of years to develop an accurate gauge. Get this first measurement correct and you set yourself up for future wins.
Disciple-Making: Define It.
If you're going to measure disciple-making at your church, you must first define it. Answer this primary question: "What is a disciple of Jesus?" I know it's a highly debated topic, but please don't let this disparity paralyze you. Give yourself permission to answer the question and then continue to re-answer it over and over as your relationship with Jesus deepens.
The biggest mistake you can make as a leader is to ignore the question. Ignoring it will prevent you from leading your church into greater discipleship. Instead, you'll rely entirely on anecdotes and personal feelings to gauge whether or not your church is advancing the mission. The disciple-making stat matters most. If you don't answer the question, "What is a disciple of Jesus?" you'll never know if your church is winning. If you do the necessary work to define discipleship, you'll most likely end up with a long list of characteristics. That list is important, but you're not done yet.
Disciple-Making: Simplify It.
After answering, "What is a disciple of Jesus?" the next step is to simplify it. Take the long list of characteristics and select the qualities you believe are most important. Missiologist Ed Stetzer offers two suggestions: 1. "Don't overthink this process"; and 2. "Focus on six to seven key metrics at the most." I agree. In fact, I encourage you to think in terms of three key metrics.
Disciple-Making: Measure it.
The last step is deciding how you'll measure the few key attributes of disciple-making. Take the handful of attributes you prioritized and determine the best way to measure each of them. This needs to be a measurement that, with reasonable effort, can be tracked on a regular basis and recorded on an Excel spreadsheet. This process will not measure everything, but it will give you a better indication of how your church is doing with disciple-making.
Disciple-Making Measurement: Apprentice of Jesus
Several years ago at Community, we set out to create our very first scoreboard. The first question we asked ourselves was, "What is a disciple?" After a lot of thoughtful study and conversation, we concluded that a disciple is someone who is apprenticing with Jesus. I like the term "apprentice" because it implies a relational way of learning that includes both knowing and doing. Too often, churches make the mistake of equating discipleship with taking a series of classes and cognitive content.
With that understanding of discipleship, we became more precise about a simple and measureable definition of an apprentice of Jesus. We determined that the simplest description came when we looked at three primary, growing relationships—with God; with the church; and with the world. The Scriptures and that observation led us to what we call the 3C's (the relational experiences of every Christ follower: Celebrate, Connect and Contribute):
Celebrate—our relationship with God
Celebrating both in community and individually what God is doing in our lives and in our church. The focus of this 'C' is growing our relationship with Jesus (Acts 2:38; 2 Tim. 2:15; Heb. 10:25). We measure "Celebrate" by weekly participation in celebration services.
Connect—our relationship with the church
Connecting with other Christ followers to grow spiritually, build friendships and experience genuine community. The focus of this 'C' is growing our relationship with others in the church (Acts 2:41-47; 1 Pet. 5:1-4; Matt. 18:15-17). We measure "Connect" by participation in, and doing life with, a small group.
Contribute—our relationship with the world
Contributing our talents, time, passions and resources to further Jesus' mission in this world. The focus of this 'C' is growing our relationship with those in our community and world who need to find their way back to God (Matt. 28:18-20; Luke 21:1-4; John 13:1-7). We measure "Contribute" by participation through serving in ways that advance the mission of Jesus.
When a Christ follower is Celebrating, Connecting and Contributing, we call them "3C." At Community, our mission statement is to "help people find their way back to God," so we're not looking for 100 percent of our church to be 3C Christ followers. But we do challenge each of our campuses to have 50 percent of their people at 3C.
I'm the first to admit that the 3C's don't cover every aspect of what it means to apprentice with Jesus, but it is our simple and measureable answer to the question "What is a disciple of Jesus?" My hunch is that you can come up with a better answer, especially one geared to your context. So please don't ignore this question. Answer it simply and in ways that can be measured. Why? Because disciple making is the measurement Jesus said ultimately matters most!