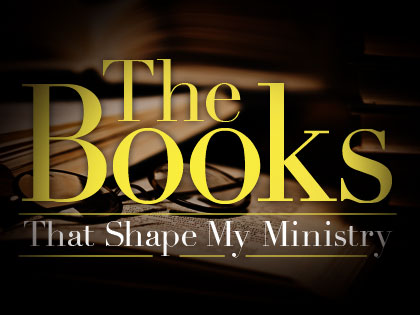 Dan Kimball: "What I love about books is that they make us feel we are not alone on this mission."
I don't know how I would survive without books. I actually can't imagine any church leader not being a reader and constant learner. I am often asked which books have most influenced me as a church leader, and my answer is "many!" For this issue of Outreach, which celebrates the best outreach-oriented resources published in the past year, I'd like to share a few of those.
Too Busy Not to Pray

by Bill Hybels (IVP)
Hybels' book gives such practical ways of making sure we see prayer as a priority. It is an easy read, and I have given out 200 copies over the years to leaders and interns at our church. This book remains in my head and heart to this day after I first read it 20 years ago. It may be the most important book that's shaped me as a church leader, besides the Bible. It is so easy to get caught up in the busyness of church leadership—spending time with people, attending meetings and preaching—that we slowly forget the importance of prayer. This book is a great reminder.
The Purpose Driven Church

by Rick Warren (Zondervan)
When The Purpose Driven Church was released, I read it cover to cover four or five times. What shook me to my bones was reading someone who was a pastor yet thought strategically about church and ministry. That sent a jolt of electricity through me at the time, causing me to look at the church as having clear, biblical purpose. Creating pathways to implement those purposes doesn't happen by chance; it takes strategy. The Purpose Driven Church is a life- and ministry-changing book, and I still keep a copy on my shelf. I have so appreciated seeing Saddleback change over the years, yet still hold to its purpose and strategy, just as Warren's book explains.
Hudson Taylor's Spiritual Secret

by Dr. and Mrs. Howard Taylor (Moody)
I read this book on Hudson Taylor, a missionary to China, very early in my days on staff at a church for the first time. I related to Hudson's story. In my own life, I felt like I'd entered a Christian subculture and didn't fit in. I loved his heart and passion for people who didn't know Jesus, and how he adapted his approach when he witnessed without compromising doctrine or the gospel. I also liked that he got in trouble for it from those who wanted him to do church and mission a certain way, but he knew the context demanded a change. The book caused me to enter into ministry for the first time really thinking of myself as a missionary to the people where I lived, and that has never left me.
There are many more books and authors I could list. Josh McDowell and Lee Strobel gave me confidence as a new Christian that I wasn't crazy and that there were valid reasons for belief. John Maxwell shaped my leadership skills. Currently N.T. Wright, Scot McKnight, John Walton and other theologians build my mind and heart with theology and Bible. What I love about books is that they make us feel we are not alone on this mission. We need each other, and although I am not sitting down with these authors, I have spent much time with them and their lessons. Books fuel my passion to never give up serving Jesus on mission.