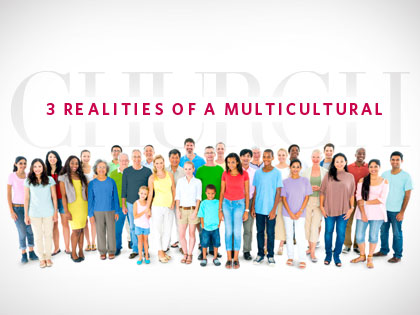 Ed Stetzer: "A multicultural church is not simply about skin tone, but about the intentional engagement of cultures."
While we were not thinking in those categories, my first church was a multicultural church.
It wasn't necessarily intentional—we just reached our poor neighborhood, and that's who lived there.
My church today would not fit the definition of multicultural. It's not because that's not our desire. But the location where we meet is 93 percent Anglo.
However, having recently opened a campus in a more diverse area, we are excited about the opportunity to become more multicultural.
But our excitement should not blind us to the issues involved. While the results are worthwhile, developing a multicultural church takes work. Here are three things to consider in moving toward having your church better represent the diversity in your neighborhood.
First, just because your church looks diverse doesn't mean it is diverse.
Often, pastors who say they have multicultural churches really have multiracial churches. Both are good, but being multicultural is much harder than being multiracial.
You can be multiracial if you simply have "persons of color" who attend your church. They work in the same places, go to the same movies, eat in the same restaurants, but they happen to be persons of African-American, Asian, Anglo or Latino descent.
However, a multicultural church is not simply about skin tone, but about the intentional engagement of cultures. So a multicultural church will not simply have people who are by their background from Latin America, for instance, but who will intentionally engage Latino culture(s) and context(s).
Second, multicultural ministry is a recipe for conflict.
If you're going to engage in multicultural ministry you're going to hurt somebody's feelings or have your feelings hurt. Different cultures have different pressure points that those on the outside often don't know.. Conflict is inevitable, but when it occurs we can apologize and move forward.
The fact of the matter is, when you do something that causes people offense, you have to take responsibility for it. You could spend all day long parsing the percentages of people who were or were not offended. Or you could say, We should have done better.
So it will be in any form of a multicultural ministry. People's feelings will be hurt, but apologies and forgiveness should flow quickly.
Third, multicultural ministry slows down ministry.
Multicultural churches will likely have slower growth than mono-cultural churches. It's simply a statistical reality that when everyone thinks similarly, they can engage others more quickly and more effectively, and churches will grow.
Healthy multicultural churches are built on cross-cultural relationships of transparency and trust, and these take much more time to develop than  relationships with people of similar backgrounds. Furthermore, trust is less readily available in a room full of people unlike you.
If your only goal is growth, the best way to grow your church is to keep it homogeneous. However, perhaps we might also consider the value in going deeper, building relationships and affecting the kingdom of God more through multiculturalism.
Multiculturalism and the Kingdom of God
The church is called to be both a sign and an instrument of the kingdom of God. It's an instrument of the kingdom of God, and it's God's agent in the world showing and sharing the word of Jesus to a broken and hurting world.
But it's also a sign of the kingdom of God, a draw to the kingdom, a credible witness to the kingdom, because people are supposed to look into the church and say, "That's what the kingdom of God looks like."
In this sense, it's a window into the kingdom that compels others to come be one in Christ with us. Even when we window shop, we know there is much more inside.
Revelation 7 says men and women will gather around the throne of God for eternity, and they will be from every tongue, tribe and nation. Scripture goes to great lengths to point out the diversity around the throne.
Thus, it seems only right and pleasing to God that our churches might be signs of the kingdom of God today in increasing multiculturalism.