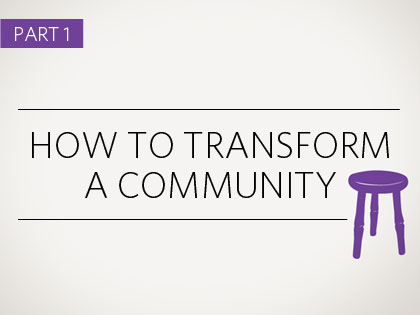 Instead of changing the world, seek to transform a neighborhood, a ZIP code or an apartment complex with a more focused vision.
Over the years at Mosaic Church of Central Arkansas, we have learned to visualize effective strategy as a three-legged stool—a designed harmony of effort along spiritual (church), social (nonprofit) and financial (economic) fronts.
Just as a stool needs all three legs to function properly, a local church best accomplishes its mission through a multidimensional strategy. Construction of each leg pays careful attention to equality, symmetry and ergonomics.
At the same time, even the best designed and beautifully constructed, cannot bear the weight of the world—and neither can a church.
How many times have you heard it said—or even preached it yourself—that "We can change the world!" or "We're going to take this city for Christ!"? But the question remains, Have you ever seen this happen?
Perhaps such rhetoric fails to become reality because we've been overly simplistic, or naïve in our approach—too one-dimensional in our strategy. We concluded that simply starting a church does not in and of itself bring about real community transformation.
Mostly through a painful process of learning by mistake, Mosaic has stumbled upon principles we have found to be essential to the transformation of our community, among them:
Empower rhetoric through a specific, precise vision.
A local church needs to be local, so I encourage you to focus on a defined community of need. Instead of changing the world, seek to transform a neighborhood, a ZIP code or an apartment complex with a more focused vision.
Couple this with humility and a willingness to labor in obscurity, and God will exalt your efforts beyond what you might otherwise ask or think possible (1 Peter 5:6; Eph. 3:20-21).
Imagine redemption as collective.
In our western culture, the church tends to understand and proclaim the gospel in an individual context. Emphasis on personal sanctification often limits the redemption of church and community but biblical reality presents the good news as personal and corporate. Transformation births eternal and abundant life starting in the here and now, empowering the advancement of God's Kingdom on earth as it is in heaven (Matt. 6:9-13; 25:31-46; 28:19-20; John 10:10).
Define "salvation" in the context of a broken world.
The redeemed still struggle with the flesh in this life (Rom. 7, 8) and the salvation of individuals will not alone bring an end to injustice, eradicate racism, guarantee access to quality education and health care, ensure equitable pay, prevent teens from getting pregnant or provide a forever family for children waiting to be adopted. Fueled by a miracle motif mindset—the idea that just because people get saved, life will be good—the church often fails to work together toward more practical, timely solutions.
Real community transformation requires the church not only to lead people to Christ but also to improve quality of life, restore local hope and engender the goodwill of believers and non-believers alike (Matt. 5:16). In other words, the church's mission depends on a balanced attack: proclaim spiritual truth, advance social justice and promote financial development.
Mark DeYmaz is the founding pastor of Mosaic Church in Little Rock, Arkansas, and a co-founder of the Mosaix Global Network.