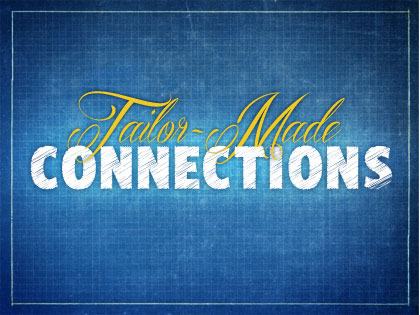 Lead Pastor of Pastoral Care Cecelia Freeman says knowing and providing for the specific unique cultures and needs of individuals creates a nurturing environment.
What is The Church on the Way's strategy for getting people to connect?
We want people to come to Christ, and then the next step—to get plugged in. So [Senior Executive] Pastor Dan [Hicks] and [Lead] Pastor Ricky [Temple] invite people to fill out the tear-off slip in our bulletin—name, address, phone and then boxes for what they need or are interested in. We—pastoral care—get the stack of between 75 and 100 tear-off slips on Monday. First we send letters, then we'll email if we have an email. Then we'll call and follow up, tell them what things are available, find out what their needs are.
You can offer a lot of things, and people can just end up going to different events. But we want opportunities to be tailor-made for each individual so they feel nurtured and cared for.
How do you tailor your opportunities for connection?
It's not only that we have so many people in our community, but we have so many different cultures and languages in L.A. … To really get to know people, you need to find out the relational issues and what culture they grew up with, and then how you can serve them particularly. We have a homeless group, an Iranian Fellowship, Filipino, East Asian, Armenian—many multilanguage fellowships, and they tend to be bigger than our other small groups. We provide areas specific to their culture.
What other tailored options do you offer?
We have formational groups—Bible studies that deal with questions about God, core Christian beliefs and values; topical or seasonal groups, which focus on issues like marriage, finances, grief, divorce recovery; and home groups. Then we also have recreational groups connecting people by hobbies and interests—music, basketball, dance.
Is The Church on the Way planning to offer more or new groups in the future based on what you're seeing in your community?
Yes. With everyone living busy lives, especially in L.A., in the next year we're going to be emphasizing small groups through the Internet. We hope to get eight to 10 people to connect as a group virtually—text, conference call, FaceTime. It can work for youth, women's, men's Bible studies, whatever. A small group doesn't necessarily have to happen in a home. We have to stay with what's happening in society, which means we have to make groups available online. We want to see people saved and set free. We want to support and empower them, so we are constantly trying to find ways to do that everywhere.
Can you share a story of someone being empowered at The Church on the Way?
About six years ago, a woman named Christina used to live under the overpass—the bridge at Century Boulevard right as you get off to go to LAX. Everything she owned was in a bag. She was pregnant and her husband was in the jail. She got brought to our church, got involved in a women's small group, where they embraced her and helped her get on her feet. Now her husband's out of jail. She's had two more kids. She's going to college to become an addictions counselor, and she's planning on attending our King's University. She's just on fire for the Lord. —Heather Schnese