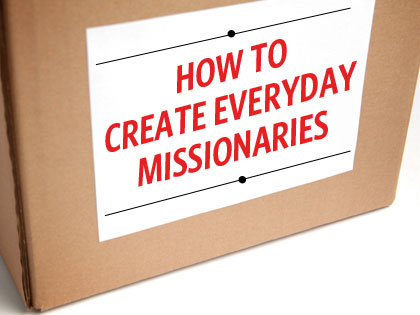 The three essentials that have created a missionary DNA at Transformation Church in Indian Land, South Carolina.
According to the grace of God given to Transformation Church, in just two years, more than 1,300 people have committed their lives to Jesus here. When pastors ask me, "What are you doing?" I tell them, "It's not about what we are doing.  It's about who Jesus is creating us to be. He has birthed His missionary DNA in us. We are everyday missionaries."
Before I give you some thoughts on how to develop everyday missionaries, let me share a recent email I received:
I found myself doing something I never thought I would do. I stood near a grocery store asking for money as I recently had a baby 16 weeks ago and lost my job as a waitress. I was about to leave when a young lady walked up to me and said, "There isn't much I can give you financially, but I can pray with you," as she handed me a blanket.
I accepted her offer to pray. She prayed that Jesus would provide for me and my baby. I had no clue what any of her prayer meant. She then told me about Transformation Church, but I cut her off before she could finish her sentence because I am a half Latino woman. I said to her, "I don't go to church because churches are segregated, and I don't feel welcomed."
She said, "Well, Transformation Church is a multiethnic church." I stabbed back, saying, "I'm a mess and don't belong in church. EVER." And she said, "Well, it's a good thing that Jesus turns messes into masterpieces!"
She sat with me in the cold sharing how Jesus has transformed her life through Transformation Church. I will NEVER forget this woman and the hope she has given me of having a new life. She handed me an invite card to Transformation Church with her name and number on it. I will forever treasure it.
After our conversation, I went to the library and listened to four sermons from Transformation Church and cried like a fool in the middle of a library. I accepted Jesus as my Savior as I listened to the sermons. I'm so thankful for this young woman from your church that told me what Jesus is all about. Might I add that when she left me that day after spending an hour by my side, she went back into the grocery store and brought me out a warm hot chocolate, a $50 gift card and diapers for my baby.
I hope this story touches you, and you can see that your people really are on mission. I am coming to TC tonight for my first time. What you're doing matters, and my life is forever changed.
This is an example of what God can do through the church when we teach and equip people to view themselves as missionaries in their daily lives. Here's how we do that at Transformation Church.
Continually Cast Vision
In every sermon and in every small group, the vision of Transformation Church is communicated. We are a "multiethnic, multigenerational, mission-shaped community that loves God completely, loves ourselves correctly, and loves our neighbors compassionately." The more our people hear the vision and experience the benefits of the vision, the more they embody it through the Spirit's power, the more they pursue their missionary calling.
What is your vision? Does it produce missionaries? How often do you share it?
Constantly Proclaim the Gospel
The same Gospel that introduces a sinner to Jesus is the same Gospel that matures the saint in Christ. We don't graduate from Jesus or His Gospel! For example, from our "weekly staff Transformation Time," weekend preaching/teaching, small group studies, volunteer service training, and monthly lay leadership development classes, we tattoo people with Jesus and His Gospel. We've learned that people who treasure Jesus are desperate for the lost to treasure Him.
Does your church constantly proclaim the Gospel through every ministry environment?
Consistently Develop Systems That Enhance the Vision
When we planted Transformation Church, with laser like focus, we were committed to developing systems that enhance the vision, not compete with it. Therefore, as a church, we worship on the weekends; we fellowship in small groups through the week; and we serve our community as missionaries. This lean ministry approach, enhanced by our systems, moves our people to connect with the lost in their spheres of influence.
Do you have countless ministries that are focused on Christians spending time with other Christians or do your systems, like a laser, guide your congregation into its missionary calling?
Local churches are missionary training centers so everyday missionaries can be released into every sphere of life. As we say at Transformation Church, the service is the huddle so we can go out and play the game of life on mission.