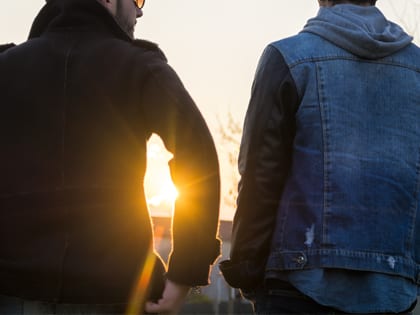 "I could trust that God was doing the heavy lifting of drawing people to himself. I would simply join him in the work!"
"Give people lots of chances to get saved, and they will." —Steve Sjogren, author of The Conspiracy of Kindness
"God wants people to get saved a lot more than you do." —Unknown
My son is a pastor in another state. These Leadership Mentoring exercises are an attempt to impart on him—and other church leaders—what God has given me. They are designed to be discussed over coffee or FaceTime in order to stimulate thinking and wrestle with leadership themes, skills and perspectives. They are not easy fixes, 1-2-3 strategies or spoon-fed biblical remedies. Rather, they are intended to stimulate investigation and an internal wrestling match resulting in deeper learning and more thoughtfully held values and convictions. The wrestling match has a shaping effect on us. Wrestle away!
Inviting a Response
People are more receptive to Jesus and his gospel than we think, so we should give them many opportunities to trust him and be saved.
I was having dinner with some pastor-evangelist friends, quizzing them on how they gave invitations for people to come to Christ in a church service. Steve Sjogren inserted, "Give people lots of chances to get saved and they will." Wait, what?! He went on to talk about how people are much more receptive to Jesus than believers think, and frequently respond positively when asked if they'd like to know him.
My Experience
I came from a tradition where people came to Christ either through personal witnessing or in special settings like retreats and crusades. It was not a normal Sunday service activity. I'd been praying for two years for God to anoint and equip me to effectively preach the gospel for people to get saved. I knew something was missing. Don't get me wrong: I taught the Word passionately. But I never presented the gospel to any unbelievers who might have dropped in.
Steve Sjogren rocked my world with several common-sense nuggets that were anything but common to me. "Give people lots and chances to get saved and they will." How did I not know this? And he talked about non-Christians as pre-Christians—everyone on the planet was in some way being drawn to Jesus because he was lifted up (John 12:32; 6:44).
So, I could trust that God was doing the heavy lifting of drawing people to himself. I would simply join him in the work.
The next Sunday, I tacked on a very inept gospel presentation at the end of my sermon and asked if anyone would like to pray with me to receive Christ. Eight people responded, many with tears running down their faces. One was my next-door neighbor.
Each week we saw between three and eight people get saved this way. It was powerful and messy. Most were broken all to heck, but Jesus took hold of them and they were changed forever.
Biblically Speaking
Most of us would not consider ourselves evangelists. Studies confirm that evangelists make up less than 10 percent of any local congregation. But what about the rest of us? As Paul said to Timothy, "Do the work of evangelist" (2 Tim. 4:5). What do evangelists do? They seek out people, share the good news with them, ask them to respond, and midwife them in. For us, we may want to add some evangelistic priorities and practices to our normal ministry and preaching lives.
Here are some suggestions:
Weave the gospel into each message, making sure it's there somewhere. Everything relates to the gospel in some way.
Think about the "church-inexperienced" folks filling a seat and decrypt complex Christian concepts during the sermon. Don't take the edges off the truth, but simply help them understand what the Bible is saying with less Christianese.
During the sermon, sow the seed that you will be asking them to commit to at the end of the sermon or service.
Give a simple invitation at the end of most sermons or services, such as, "I want to give you a chance to respond to Jesus right now. He is knocking on the door of your life."
Give people a concrete way to respond—with everyone's eyes closed, look up at me until our eyes meet; raise your hand; stand where you are; come forward, etc.
Ask them to pray a prayer of faith-surrender-commitment aloud with you. You might have everyone pray it aloud (which inadvertently equips the congregation with how to introduce someone to Christ, and possibly for some to recommit their lives to him).
Ask them to respond by filling out a card so you can follow up with them and help them grow in their newfound relationship with Jesus.
For some, this will be redundant and common sense. For others, it will be a total game-changer—both for you AND your hearers, whose eternity has now been profoundly changed!
One last note: This not only works within a sermon or church service. It also works in the workplace. In your neighborhood. At your school. At your coffee shop or hangout spot. People are more receptive to Jesus than you can possibly imagine. So you can ask them if they want to know more or would like to be introduced to him. They will listen. Give them lots of chances to respond, and they will!
Interact
In your teaching and preaching, do you give people chances to respond and commit their lives to Jesus? Why or why not?
What are your internal obstacles to giving these opportunities for people to come to faith?
What are you afraid of when it comes to presenting the gospel to others? Why are you afraid of this?
If you were to weave the gospel into a sermon, how would you do it? Can you give a simple synopsis of the good news in lingo that a pre-Christian would understand?
What are the obstacles you run into within yourself to giving these opportunities for people to get saved?
What does the Scripture say about God's desire to save people? Dig in and interact with what the Word says, and then bring it to God in prayer.
Are you willing to continually ask God for boldness to make Jesus known? (This is not a one-and-done prayer, but an incessant plea. The Devil and the world want our voices on "mute.") What would be the benefit of persistently asking like this?
How would you ask someone to pray to receive him?
What words would you have them pray? Is this the only prayer you have? Might Jesus take the prayer in a different direction according to the person who is praying? Why or why not?
Read more in the Leadership Mentoring series »
Bob Branch is the husband of Becky; father of Daniel, Hannah, Charis and Becca; father-in-law to Amelia and Nate, and the founder and pastor of The Springs Community Church in Temecula, California. Besides connecting with his family, he enjoys traveling, guitars, watches, football, baseball, Clive Cussler books, good coffee, sushi and almost all kinds of food.