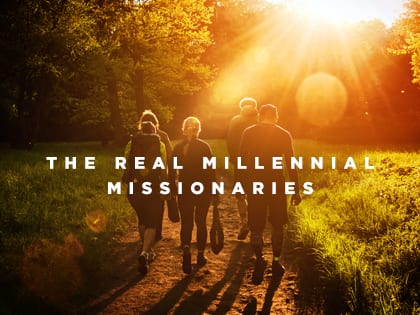 "None of the millennial missionaries I've met are lazy. They are passionate about seeing a lost world come to know Jesus."
It has been said that "the purpose of comedy is to correct men's vices." But with the rise of Christian satire blogs like The Babylon Bee, comedians like Tim Hawkins and the Skit Guys, and cartoonists like Adam4d, what happens when someone takes a joke a little too far?
Recently, "The Millennial Missionaries," a video by Christian comedian John Crist, may have done more harm than intended. Comedians like to knock millennials, and—as a millennial myself—there's a lot to knock. However, the problem with Crist's video is it stretches negative outside the realm of reality. Crist depicts young missionaries as lazy, self-centered and unwilling to do the real work of God.
Comedy is good for Christianity. The Babylon Bee pokes fun at problems in the church and our culture. Tim Hawkins is famous for gently mocking Christian stereotypes. They do it to make people laugh, but their work also edifies the church. It "corrects men's vices." In addition to making us smile, it aids our sanctification.
John Crist, Tim Hawkins, the Skit Guys—anyone, really—is welcome to gibe millennials. That's not the problem. I like a good joke, even if I'm punchline. And to be fair, I find much of Crist's other content hilarious. My fear is that videos like "The Millennial Missionaries" perpetuate stereotypes that will inhibit young missionaries from pursuing God's calling—and others from giving to support those callings.
While some millennials use mission trips as an opportunity to take selfies and look good on social media, in my experience, the majority of vocational millennial missionaries are faithful, accountable and give selflessly to fulfill God's work.
Most of them are self-funded. To do the work God has called them to, they raise money from churches, friends and family. Unlike how fundraising is presented in "The Millennial Missionaries," this is a humbling task. Actual millennial missionaries don't ask for monthly support equaling $10,000. Most are content to make rent and not starve in their country of outreach. When I served as a missionary with NAMB (North American Mission Board), I lived on $12,000 a year and slept in a dormitory.
I wonder, how difficult will it be for young missionaries to raise support if the stereotypes perpetuated in "The Millennial Missionary" are what come to mind first for potential givers?
After watching the video, I believed someone needed to seek out some real millennial missionaries—young people who are passionate about God's calling, not stretched out in the Aruban sun. They're in rough neighborhoods, obscure villages and countries you wouldn't go to on vacation. And if the missionaries portrayed in Crist's video exist, I haven't met them.
My goal for this article is to show who young missionaries really are, the incredible work they do and how they remain accountable.
Who Are They?
Green mountains surrounded Lake Managua in Nicaragua, and the rusty roofs grew closer as the plane descended. The woman next to me looked out the window and said, "Bonito"—very pretty. From the ground, distant volcanoes puffed smoke and the humid air was thick.
In 2016, I helped lead a team on a week-long mission trip in the city of Managua. But Chasen and Katie Brokaw, age 27 and 24, have served in Nicaragua for two years. However, they both felt God calling them to Nicaragua long before—2006 and 2009, respectively. And they both feel him calling them to stay for the long haul.
Chasen and Katie manage a nonprofit called Breaking Borders—an organization devoted to developing character in students through ultimate Frisbee. They host community Frisbee tournaments, participate in the physical classes of local schools and run a one-on-one mentoring program called "T.H.E. D.I.S.C" (teachability, humility, empowerment, dedication, integrity, service and communication).
They also engage in missionary work, building relationships with locals to share the gospel. When asked about his average work week, Chasen said that early in the week he does logistical duties, such as going to meetings with ministry partners, planning events and preparing community outreach. As the week progresses, he and Katie spend time mentoring students.
Elsewhere in Nicaragua, another missionary remains steady in her work. Becca Chelgren, age 24, serves with a nonprofit coffee company called 41 & Change. She describes the organization as "a fundraising mechanism for Young Life and any other organizations that need to raise money." Like Chasen, she pulls double duty, working a nonprofit and doing ministry as a mentor to the students who come to the Young Life camps in Nicaragua.
Becca's goal is "to sell more coffee in order to send more kids to camp so that they can experience the gospel firsthand," she says.
All these missionaries have a clearly defined purpose. Regarding his ministry, Chasen says, "My wife and I are not relief-based missionaries … we focus on discipleship and living life with people."
Chasen and Katie know exactly what their goals in Nicaragua are. They clearly state who they are and what they do. They're there to disciple. Becca is in Nicaragua to sell coffee to send kids to Young Life camps. All of them, like many other young missionaries in the field, understand exactly why God has placed them where they are.
What Kind of Work Do They Do?
In 2013, I served as a student missionary with the NAMB. I raised my own support to work with college students in Tampa, Florida with BCM (Baptist Collegiate Ministry). Every month, I sent newsletters outlining our campus ministry, but my work looked an awful lot like fun. I became worried that people would wonder, "Just why are we sending you money, again?"
Through my newsletters, I explained that missionaries build relationships through which they can share the gospel. While lifting weights in the gym, I was getting to know my workout buddy—an ex-Catholic who had wandered far from God. As I played Frisbee in common areas, I was chatting up students and then inviting them to our church services.
The mission statement of BCM is "Building relationships that matter." In other words, building relationships so the gospel can be shared from person to person. Few people are saved by pamphlets or by a sign held up on the street corner. And grand crusades aren't so grand anymore.
People come to know Jesus through other people. Building a relationship with a nonbeliever erects a bridge for Jesus to walk across.
That is the work of the missionary.
Perhaps the work ethic presented in "The Millennial Missionaries" was a misinterpretation. The work of missionaries is far different than the work of pastors or other ministry leaders. The work of a missionary is not preformed in the office, but in the field.
While explaining the relational nature of missions, Chasen quoted 1 Thessalonians 2:8, "Because we loved you so much, we were delighted to share with you not only the gospel of God but our lives as well." Paul's instructions for how to reach nonbelievers: Spend time with them, build relationships and share with them not only the gospel, but your own life.
Crist's video depicts "building relationships" as a cop-out. And, unless you make an intentional effort to share the gospel, it can be. But relational mission work is the most effective way of sharing the gospel. However, it requires real work. Building a relationship with someone—then earning the trust needed to share the gospel—isn't a weekend building project.
As a missionary, building relationships is full-time work. Chasen says it best: "We do life with people. Ministry for us is not a job, but a lifestyle. At 5 o'clock, we do not turn off. We share our lives with others and get dirty."
None of the missionaries I've met are missionaries because they're lazy. The millennial missionaries I know are passionate about seeing a lost world come to know Jesus.
Becca has an especially busy and varied schedule. At any given point, she could have 100 pounds of coffee sitting in her home that she has to sell to various buyers. So a lot of her time is spent delivering coffee and meeting potential clients. In addition to the coffee business, she spends several hours a week at a Young Life camp working with students and sharing the story of 41 & Change. "Every day looks different for me," she says.
The coffee is the start of the relationship. Whether it's with students or clients, friendships often begin over a cup of coffee. And her cafe conversations usually venture toward the foot of the cross.
With 10 years of mission experience, Joe and Daisy Pardo work with an organization in Puerto Rico called Love the Nations. Their ministry counsels young women considering abortion and shares with them the love of the Christ.
When asked what advice he has for younger missionaries, Joe pointed toward the passion driving all missionaries.
"Many will tell you that it is foolishness, that you should get a secure job, secure life, have a home, a regular job, a regular family," he says. "But the call of God to take his gospel to the nations is so much richer than anything the world offers."
How Do They Remain Accountable?
When serving with NAMB, I wanted my sponsors to know exactly where their support was going. This is a common desire among young missionaries. Both Chasen and Katie, Joe and Daisy, and Becca have a clear plan for remaining accountable to their financial backers.
Chasen and Katie send monthly newsletters that outline their ministry work. The newsletter contains updated financial information and needs, as well as prayer requests and praises. Every four to six weeks, they contact those who support them financially to say hello and "hear about what's going on in their lives," Chasen says.
Instead of sending bulk emails, Becca tries to send personal messages. She adds, "Whenever I visit the States, I set meetings and coffee dates with as many donors as possible to check in and update them on all that is happening with the ministry."
Giving to missionaries like Chasen and Katie or Becca is not like giving to a faceless organization. They stay in constant contact with those who are supporting them.
Joe and Daisy Pardo have a system of accountability built into their organization.
"We have a board of directors that we report to, who manage our budget and keep us accountable on how we use finances," Joe says. This isn't practical for all missionaries, but Joe and Daisy work with young women all across the island of Puerto Rico.
Chasen and Katie's ministry, Breaking Borders, also has a board of directors. Systems of accountability show how these missionaries have considered the logistics of their calling—and their devotion to remaining above reproach.
From my experience, the real millennial missionaries break the stereotypes. My generation has its problems, but the missionaries called out of it by God are hardworking, passionate and enduring. From every generation, God has called the apostle Pauls, the Annie Armstrongs, the Jim Elliots. Now, He's calling the Chasen and Katie Brokaws, the Joe and Daisy Pardos, and the Becca Chelgrens.
Support: Chasen and Katie Brokaw (preface your donation "Chasen and Katie Brokaw"); Becca Chelgren; and Joe and Daisy Pardo.