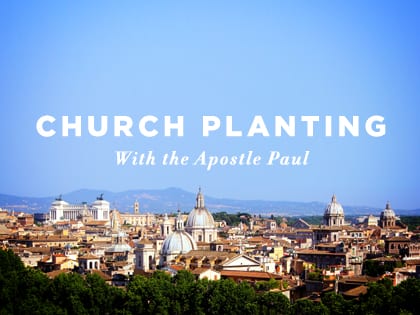 "Paul blazed the trail. He broke new ground. The book of Acts is a blueprint for every church pioneer who follows."
This week, we're hearing from several voices on the topic of church planting to celebrate the release of the July/August 2017 issue of Outreach magazine, which is all about church planting and multiplication. Click here to learn more.
"Three times I was beaten with rods. Once I was stoned. Three times I was shipwrecked; a night and a day I was adrift at sea; on frequent journeys, in danger from rivers, danger from robbers, danger from my own people, danger from Gentiles, danger in the city, danger in the wilderness, danger at sea, danger from false brothers; in toil and hardship, through many a sleepless night, in hunger and thirst, often without food, in cold and exposure." (2 Cor. 11:25-27)
Nobody said this would be easy!
Certainly, the apostle Paul's words speak to the heart of every church planter. For some, his words are a comfort: "At least I'm not the only one who's being challenged," they might say. For others, they are a warning: "It could get worse" goes through the pessimistic mind.
One thing is clear: Paul blazed the trail. He broke new ground. The accounts of the journeys in the book of Acts are a blueprint for every church pioneer who follows.
I connected with two active church planters and one who has recently stepped away from a successful church start, asking them how Paul serves as an example for them and what the rest of us can learn from a study of his methods.
The Bridge Church in Wilmington, North Carolina
Pastor of Teaching and Vision Ethan Welch can relate to some of Paul's struggles.
"We recently planted The Bridge Church with a team of 50 people who uprooted their lives, sold their homes, got new jobs and moved a couple hours from Raleigh to Wilmington to see the gospel spread through a new church plant," Welch says.
According to Welch, Paul reflects an attitude of intentionality.
"Paul was a bold risk-taker who eagerly put himself in unknown and uncomfortable places in order to see the gospel expand," Welch says. "There was no space too challenging or too risky for the gospel. "
That first-century culture is very similar to ours, Welch says.
"The message was foreign and counterintuitive to the cultural norms of his day," he says. "It was a radical message. In our Western American culture, it's becoming increasingly obvious that the way of the cross is counterintuitive to the way of the culture."
Welch says that Paul's fierce dedication to the gospel is something that the church and our culture need more of today.
"Paul was rigorous in his teaching and articulation of the nature of the gospel," Welch says. "He was robust in his understanding of the gospel, and it maintained a central aspect of his ministry and teaching. My concern today is that many ministers and pastors are opting for a moralistic model of ministry rather than a rigorous, Jesus-centered, cross-centered, kingdom-focused model of ministry."
Vertical Church in Jackson, Mississippi
Pastor Eric Smith spent seven years starting a work in the heart of the Bible Belt to begin Vertical Church. He only recently stepped away from the Mississippi plant to become lead pastor of Vaughn Forest Church in Montgomery, Alabama. He describes planting as an "incredible journey."
Smith boils down Paul's methods to a simple process.
"He was focused on three things: Reaching people at all costs. Equipping them for the work of ministry and mission. Sending them out to reach others," Smith says. "When I say Paul equipped, many people automatically think of knowledge. But Paul equipped those he reached to become equippers of equippers to actually reach more people, equip them, and send them out to move the kingdom of God forward." Smith points to Ephesians 4:11-13 as an example.
According to Smith, the way Paul was able to contextualize the Bible is a great example to us today.
"We have lost that missionary mentality in the North American church: to be wiling to speak the language of the culture and be missionaries right where their church exists," Smith says, adding that a question he always asks his team is, "If we were moving here to be missionaries, how would we engage this people and culture with the message of Jesus?"
He continues with this challenge: "I think most churches are doing ministry the way they want to do ministry, rather than thinking, 'What will it take to reach these people?' It is truly about choosing God's purpose over our preferences."
Smith also challenges church planters to never lose sight of the fact that people have a longing to know and be known by God.
"We must daily remember that the same Holy Spirit that raised Jesus from the dead and moved in power in Acts 2, lives within us as Christ-followers," Smith says, "and we have power to do what God has called us to do."
Restoration Church in Washington, D.C.
Nathan Knight is a pastor at a church in our nation's capitol, and he's been on the planting trail for a number of years now. Before planting Restoration Church, he and his ministry partner, Joey Craft, were part of a church-planting residency at the end of their seminary program.
"We chose D.C. because we wanted to go to an underserved urban setting that had the nations present within it, as well as university students," Knight says.
Knight says he views Paul a man who was overwhelmed by the glory and mercy of Christ.
"Paul didn't need helicopter drops, flashy bands … nor did he need any charisma," Knight says. "What he had was a glorious Christ, and it was enough to turn the world upside down."
Does Knight think that there's a similarity between planting in D.C. and Paul's time in ancient Rome? Not really.
"D.C. is far from being 'the most powerful city,'" Knight says. "I would give that title to the cities that are pushing the cultural winds more directly—New York and Los Angeles. They have more of an impact on the world than D.C. by far."
Knight points out that the leadership of the United States only stays in Washington, D.C. part time.
"The long-term residents are not the people you think about when you watch the news," Knight says. "They work mid- to low-level jobs at government departments, or are regular lawyers pushing paper." He adds that his city is really not much different than any other metropolitan area.
There are two ways that Paul can be an example for church planters today, Knight says.
"Paul was entranced by the glory of Christ," he says. "He never got over the gospel and its reward of knowing and enjoying Christ. He didn't seem to need anything else."
Second, Knight points to Paul's informed ecclesiology: "Paul understood the importance of biblical discipleship and the need for the church to do a few things really well," he says.
What would Paul say?
Let's get some input from the apostle himself. How did he manage to thrive during all the hardships? What advice can we take away from his words?
Most scholars agree that 2 Timothy is one of the final of Paul's epistles we have. Paul's words here say it all:
"But the Lord stood by me and strengthened me, so that through me the message might be fully proclaimed and all the Gentiles might hear it. So I was rescued from the lion's mouth. The Lord will rescue me from every evil deed and bring me safely into his heavenly kingdom. To him be the glory forever and ever. Amen." (2 Tim. 4:17-18)
Read more stories about church planting »
Jeff Chaves is a freelance writer and pastor. He has been married to Peggy for more than 32 years, and they have four children. He is the pastor of Northpointe Community Church in Las Vegas, Nevada.