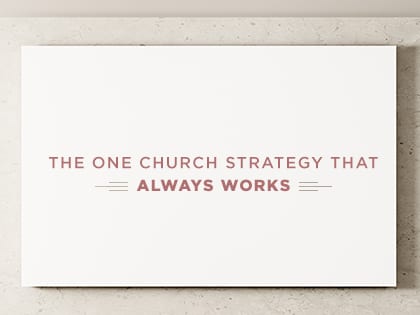 "Consider planting and building communities on mission, and let God build his church."
I've always said my batting average is about .300. That's pretty good in baseball, but if what I'm measuring is how often my plans and visions pan out, it actually means quite a large percentage of my ministry efforts over the years have fallen flat.
I remember doing an outreach gathering in a park in Portland, Oregon, while planting our first church. We spent what was left of a very small budget on clowns, live music and all the bells and whistles one could add, all in the hopes of letting people know a new church was launching. We had about 500 people come enjoy the day, yet not one single person came by the next Sunday. Ugh.
In great courage I have prayed for many sick people who did not recover. I have moved our church into buildings that turned out disastrous. I have put people in leadership positions only to have it end up being a train wreck for everyone involved. Twice, I've tried to hand the reins of my senior pastor position to another person, and twice it didn't work. I even took a risk and let a recovering heroin addict lead worship, only to watch him make shadow puppets on the overhead projector during worship. (Overhead projector—now that takes us back a few years, eh?)
I could go on and on as my mind is flooded with many other miscues, missteps or outright misadventures of doing the wrong thing. I hope most of you have a better average than .300, but my guess is that you're finding comfort in my litany of losses because you share a similar saga.
Maybe you've tried to get your congregation to be more welcoming, be more missional, be—you know—the freaking church!
Well, take heart, I have found one thing that has always been the right decision, and I suspect will always be good for—at least—a "bloop single." What is that one consistent right decision? That one aspect of ministry that I'm confident in? That one commitment I am making again now, in my third city?
The one best thing I am doing is … committing to building missional community while God builds his church.
In my ministry, both churches began because we were not even thinking of building a church. We were simply trying to build an intentional community of people on mission, in our neighborhood. And yet, it has always worked.
Why do I think this always serves me better than focusing on all the church stuff?
For one, when I have made all these bad congregational decisions, the church has always been able to weather the storm because they are not dependent on the church service or me as their savior. They are dependent upon each other. So when I messed up, they were actually just fine.
Second, missional community always seems to make disciples. Doing church for people really doesn't. And it can actually perpetuate a lot of consumerism, thus forcing the leader to make dumb decisions to keep people happy, coming and giving.
Third, missional communities do all the stuff that we hope will happen in the larger church structures but often never does. Our people cared for each other, took care of each other in crisis, carried practical burdens for each other and loved on each other's lost friends. They taught each other the Scriptures and created beautiful experiences around party and celebration for their lost friends. And when their friends came to faith, they discipled them. Heck, I never even had to run classes for them at all.
Fourth, because they were getting most of what they needed for growth and a meaningful life, the pressure was off me on Sunday. I didn't have to be excellent, or amazing, or unique, or better than the pastor down the street; I just had to be Hugh.
Consider planting and building communities on mission, and let God build his church. If you do, I think your batting average will go up.
Hugh Halter is the U.S. director of Forge America, an apprenticing community committed to training men and women to live as missionaries where they already are. He is the author of a number of books, most recently Flesh: Bringing the Incarnation Down to Earth and Brimstone: The Art and Act of Holy Nonjudgment. For more information: HughHalter.com