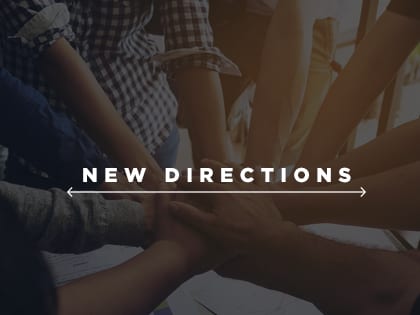 "Five trends that are changing the way church leaders think about building, running and keeping a great team."
As I reflect on the last 12 months at Vanderbloemen and another year helping churches hire effectively, I've noticed five staffing trends that are changing the way church leaders think about building, running and keeping a great team.
1. Diversity is becoming more of a priority.
The rise of churches that look more like the community they are serving is an important shift. Whether traditional or modern, churches are defined by their people. In an age where religion and spirituality are often divisive subjects, approachability does so much for the growth of a church.
2. Smart churches have a multigenerational focus.
Bringing millennials and baby boomers together results in a vibrant community of all generations that learn from each other. More than that, it creates a relationship—in the process of establishing a streamlined church-operating process—where responsibilities can be handed off to millennials as needed when baby boomers retire.
[5 ways to build a small-church dream team]
3. Turnover is increasing.
Millennials are likely to change careers, not just change jobs. A 40-year tenure at a job is no longer a reality. Loyalties on church staffs are shorter than ever, and smart churches are preparing for turnover by building pipelines of leadership and hiring from unlikely pools of candidates. Smart churches are also unafraid of succession conversations. This is a huge shift from 10 years ago, when pastors and boards couldn't even bring up the subject. Warren Bird and I wrote Next: Pastoral Succession That Works to help equip pastors for those conversations so that they happen regularly and without anxiety.
The popularity of contract labor is also increasing because the risk of hiring a contractor is much lower if turnover is high. Turnover isn't just affecting what church staffs look like, but also how they are built (and rebuilt).
4. Coaching is on the rise.
Churches are seeking out the help of consultants. Whether they're using a search firm to help with hiring, capital campaigns, succession planning, marketing or pastoral guidance, external coaching is on the rise.
5. Small churches are the heart of America.
The "big" church isn't the only story. In the last year, we've worked with more small (I like to call them normal-sized) churches than ever before in a broad range of communities and congregations across the country. We couldn't be more thrilled with the stories of life change we're hearing. Whether they are multisite church collectives or just a small church in general, small churches are an important part of the picture of how churches are sharing the love of Jesus across the country.
I'm looking forward to seeing what happens in 2017 as these trends develop and shift. Some things you will expect and some things will surprise you, but how you respond to these trends will have the greatest influence on what happens next.
Read more from William Vanderbloemen »
William Vanderbloemen is the president and CEO of The Vanderbloemen Search Group.