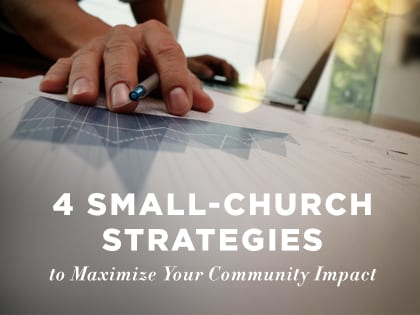 "We need to quit thinking that we have less to offer because we don't have as many people or dollars as we would like to have."
I love that what I'm a part of in Madison, Wisconsin, is just one expression of a global movement. We're not even the only church in Madison that is intentional about reaching the city.
God has a dream for humanity, each person with his or her own role and responsibilities. And while it's important and urgent that we do our thing where we are, I find peace in knowing that the dream doesn't rise or fall on me or the faith community I lead. But do the people who we're doing life with recognize this and understand the implications?
As church leaders, creating a culture that practices community development is biblically mandated. Our involvement in local contexts doesn't just include spiritual care, but also relational, physical and mental care, too. It requires intentionality on our part because it means cutting back or clearing out somewhere else to create margin for mission. At Madison Church, the church I started a couple years ago, giving back is one of three values that help us accomplish our mission of connecting people with God and each other. Values go beyond lip service … they call us to action.
And while most of us value incarnational ministry, there seem to be a lot of newer or smaller churches that rule themselves out from making an impact, defaulting to bigger churches with more resources.
Recently, I came across studies that reveal only 1 of 10 churchgoers attends a megachurch. That means the other nine—90 percent—do not attend a megachurch. If we, as pastors of churches that aren't mega, think that outreach is someone else's job somewhere else, we are failing to develop a missional impulse in the vast majority of Christians in the U.S. That is a critical mistake with exponential consequences.
Serving others precedes our models and methods, no matter the size of our building or budget. Now, at Madison Church we've had to be innovative in our approach because we don't have hundreds of people or thousands of dollars to do it with. Still, we're a small church doing big things in our neighborhood.
Here are five strategies we use to maximize our community impact.
1. Giving to Missions
We give at least 10 percent of our general income to missions. We invest in missionaries, church planting organizations and local nonprofits each month. When we have guests at our weekend service, we make a donation on their behalf to a ministry that works toward getting women and children out of sex slavery in several different countries. In the same way a budget reveals what a family values most, a church budget reveals what a church values most—and being a part of what God is doing somewhere else should be something we value.
Having limited resources can make this practice more difficult to get enthusiastic about as a lead pastor, but giving financially to missions is something that creates life around giving in the church. When I have the special responsibility to choose a new ministry for our community to invest in, I prayerfully consider those that I think our people will be most excited about. We then give these initiatives a platform to share their vision. Plus, we've seen people begin giving, give more regularly and give more as a result of this practice.
2. Encouraging People to Own Something
This Christmas season was the first time we didn't partner with our community center for its annual holiday gift program. It's a great cause that mobilizes people to purchase presents for families in our area who don't have the finances to do it themselves. We decided not to because we cohosted a large Thanksgiving dinner with them instead, but individuals in our church got involved with the Christmas initiative anyway.
More accurately, they got more involved. I ran into a member of our church who not only purchased gifts to give, but was volunteering her time to help organize and distribute gifts. She stepped up even after we stepped out.
We may only talk about food security every once and awhile from our platform on Sunday, but it may be something that speaks to specific people in our community that becomes a passion they pursue. Let's encourage that sort of thing! God has wired each of us with different passions, but we're all supposed to be involved. Just imagine our world if every person in every church took responsibility to fill in the gap somewhere our society came up short. It's the kind of idea that could lead to awakenings and revivals where you live.
3. "Give Back" Events
Every week, we have a weekend service and multiple small groups meeting. And even though we work hard to create a relaxed and casual atmosphere during those times, they're not in and of themselves outwardly focused. So we strive to have a "give back" event once a month, too. The purpose of this event is to practically serve people outside of our usual spaces. For example, we've hosted dinners and barbecues and paid for people to wash their clothes at laundromats.
I ask our church, "Where is God already working in our community?" and we join him at work where he is. This could involve a few volunteers serving at a food pantry, or your church hosting a picnic over the summer. It doesn't have to cost a lot of time, energy, money or stress. Furthermore, would people miss your church if it weren't there anymore? Would anyone notice? "Give back" events are a way to ingrain yourself into the community.
4. Celebrate Generosity
I wrote more extensively on this in a previous Outreach article, and am writing about it here briefly because of its importance in creating healthy discussions around finances in the church.
At the end of every service, we thank our givers and connect financial generosity to accomplishing our mission. Once a year, we have a party to celebrate all that we've been able to do through generosity. Maybe you think we talk about money too much at your church, and that's fair. Culture makes people either comfortable or uncomfortable with the topic of money, and we're willing to risk people being uncomfortable for kingdom advancement.
I believe in new and small churches more than any other kind. Together, we can do more good than any of us could ever imagine. That's because the vast majority of churchgoers are already in our churches. We need to quit thinking, as a whole, that we have less to offer because we don't have as many people or dollars as we would like to have. If we focus on being a light where we are, in our little corner of the world, we'll extinguish darkness everywhere. These practices will help get you there faster.
This article is part of our From the Front Lines series, in which several church planters share what they're learning as they lead their congregations.
Read more from Stephen Feith and Madison Church »