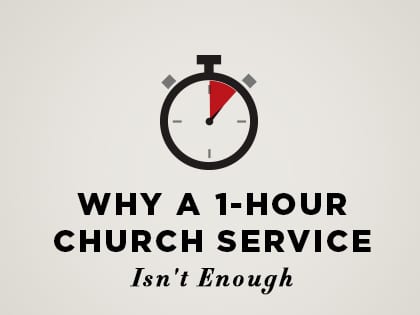 "People are not experiencing deep transformation in our churches. Can we do discipleship in an hour? I don't think so."
A few years ago, a Christian publisher strongly recommended we reduce the Emotionally Healthy Spirituality discipleship program into four, one-hour sessions because they believed that was all that most American Christians could handle. "Let's keep it simple," many pastors and leaders argue. "If your people attend weekend services, participate in a small group and serve, that is all you can expect."
People are not experiencing deep transformation in our churches. Large numbers of people live off of other people's spirituality (e.g., worship teams, sermons, Christian radio and podcasts) and do not intentionally cultivate their own personal relationship with Jesus.
We now have tens of thousands of believers who are not necessarily disciples. And we continue to work day and night to add to this number. This raises a number of questions:
1. Can a person be a Christian without being a disciple who makes daily, intentional choices to follow Jesus and remain and abide in him?
2. Can a nominal Christian who has a severely undeveloped relationship with Jesus still be a Christian?
3. Can a person whose life reflects the first three soils in the parable of the sower—where Scripture has been choked by the devil, pressures and the desire for other things—be a Christian?
4. Can a Christian who settles for showing up at church without bearing any fruit for Christ still be a Christian? Or are they simply "under-discipled"?
Only God knows whether a person has been regenerated by the Holy Spirit and born from above. And fortunately, he will be more gracious in the final judgment, I imagine, than most of us. But I am sure of one thing: The global mission of the church to change the world through the living Jesus cannot be sustained or expanded by nominal Christians.
Jesus deeply invested himself in the messy lives of 12 disciples day and night over a three-year period. One didn't work out. What makes us think we can do it any faster or with less prayer and pain?
The kingdom of God is a mustard seed that grows very slowly. What makes us think we can quickly grow our people for true, long-term kingdom impact?
The people of Israel were freed from slavery by sheer grace. Yet their journey to actually break 400 years of generational sin that lived in their bones was a slow, difficult process that took 40 years. What makes us think we can teach our people to live in the new family of Jesus any more quickly—even with the Holy Spirit?
Can we do discipleship in an hour? I don't think so.
Pete Scazzero is the founder of New Life Fellowship Church in Queens, New York, and the author of two best-selling books: Emotionally Healthy Spirituality and The Emotionally Healthy Church. This story was originally posted on Scazzero's blog at EmotionallyHealthy.org.
Check out Outreach magazine's interview with Scazzero, "Emotionally Healthy Leadership" »