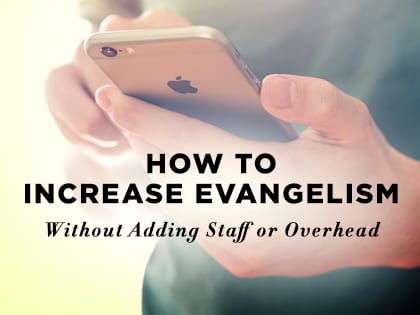 "Creativity can be your best friend in doing evangelism well. Sometimes all it takes is an iPhone and a light."
Among church leaders, there are many differing opinions on the best way to approach evangelism. Whether or not a church staff needs a full-time outreach pastor and how much money to pour into evangelism are questions that could be answered in many different ways.
Perhaps the toughest thing for pastors to figure out when it comes to evangelism is how to adapt to our society's technological advances—in other words, how to creatively use today's technology to effectively share the gospel and reach others for Christ.
My friend Chris Emmitt, lead pastor of Mountain Lake Church in Georgia, came up with a way to do effective outreach that answers all of these questions—and he didn't add one staff member or spend a single dime. He calls it "7-Minute Church," and the great news for churches everywhere is that it's easy to duplicate.
The sad reality is, many people either can't or won't come to church as regularly as they used to. When I was growing up, regular church attendance meant attending church 45 to 50 Sundays a year. Now, 25 or 30 Sundays a year is much more common. It's unfortunate, but it's the new reality.
So how does Mountain Lake's 7-Minute Church address this challenge? How do you have effective outreach under these circumstances, without hiring a staff member to address it?
By taking church to the people.
7-Minute Church is a video service structured similarly to a full-blown worship service but stripped of the bells and whistles. This revolutionary idea is almost like a house church service, but with a megachurch pastor and worship leader doing the worship and message.
Each 7-Minute Church service is first held as a Facebook Live video service before it becomes the main video on the Mountain Lake Facebook page for the next week. This way, people have the option to participate in a live video service or engage with it later at their convenience. By having a presence on social media, Mountain Lake ensures its message is on a platform that has a heavy millennial presence and also is accessible by all the people who would love to attend an actual service but don't have the opportunity.
7-Minute Church also works incredibly well as an evangelism tool for people outside the church. "I would guess our audience is close to 50-50 between Mountain Lake people and others," Chris Emmitt says. To put that in perspective, 7-Minute Church has an audience of around 3,000 on slower weeks to more than 10,000 on busier ones—that means Mountain Lake is reaching more than 1,500 to 5,000 nonchurchgoers every week! In addition to taking care of those who simply can't be there on Sunday, the outreach and evangelism potential of 7-Minute Church is huge.
Any church can do this. According to Chris, "You have to have an iPhone. That's it. We set up one light with an iPhone."
Church leaders, you don't always have to add staff members to further your kingdom reach. That's probably not good advice for me to give since I help churches find staff members, but it's true. Creativity and resourcefulness can be your best friends in doing evangelism well. Sometimes all it takes is an iPhone and a light.
Read more from William Vanderbloemen »
William Vanderbloemen is the president and CEO of The Vanderbloemen Search Group.