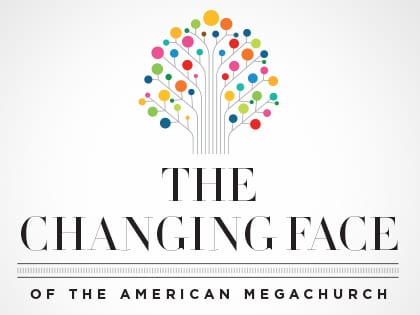 Warren Bird: Five unique challenges that face megachurches—and what all church leaders can learn from them.
As part of our coverage of the 2016 Outreach 100 Fastest-Growing Churches list, we asked Warren Bird, research director for Leadership Network, to write about the most crucial trends and challenges facing the American megachurch.
Large churches have been around since the day of Pentecost, many following an Acts 20:20 pattern of big, "public" gatherings interwoven with a "house-to-house" level of community. Indeed, recent history has seen its share of megachurches. In the 1550s, John Calvin's church in Geneva, Switzerland, had an attendance of around 5,000. In the late-1700s, a Quaker meeting house in Nantucket, Massachusetts, saw an attendance of 2,000. Charles Spurgeon's church in London, England, had an attendance of 5,000 in the 1880s, and in the early 1900s, several thousand attended an African-American church in Philadelphia, Pennsylvania. (For more info about these churches, check out my "First Megachurches" blog at LeadNet.org/world).
Today there are megachurches, including their various multisite campuses, within a 30-minute commute of a majority of Americans—a proliferation that's also in motion in Canada (see stats at LeadNet.org/Canada). As one U.S. researcher recently wrote: "The largest 7 percent of congregations contain about half of all churchgoers." If you limit that study solely to megachurches—those with 2,000 or more adults and children in worship on a typical weekend, all physical campuses combined—you find that almost 10 percent of people who attend a Protestant church on a given weekend go to a megachurch.
This reality translates into a disproportionate influence by megachurches, a label which, interestingly, many large-church pastors do not like. Craig Groeschel of Life.Church expressed it last year in Outreach magazine, "As a church, we consciously rejected the label megachurch. … We are not a megachurch. We are a microchurch with a mega vision."
The term megachurch, by the way, was coined by a researcher and moved into the mainstream by a reporter who wrote a 1983 article describing the 12,000 people anticipated to attend a 3,400-seat church. Soon, other newspapers and magazines were using the term megachurch to describe big-attendance churches with very large facilities.
But even as big churches become more visible and more common, they are simultaneously in transition. For better or worse, the day of adult Sunday school attendance being the primary driver behind worship attendance is all but gone. Citywide revival preaching, which triggered the start of many megachurches of yesteryear, is quite rare today. Seeker-targeted megachurch services have almost universally abandoned the approach in which the unchurched are encouraged to watch but not participate. Even the construction of "mega" auditoriums that seat 5,000 or more has dramatically reversed in favor of many 500- to 3,000-seat campuses, each with multiple services.
Churches of all sizes increasingly face a culture where consumerism masquerades as true faith, online community serves as a replacement for in-person community and "cafeteria theology" encourages people to pick and choose their own spiritual diet. Churches big and small also must adapt to a rising generation of millennials (those born between 1981 and 1997, roughly), "nones" (those who opt for "no preference" rather than the religious traditions of their parents' generation) and "dones" (Christians who simply walk away from the institutional church). Churches also must cope with their new position on the sidelines of society, no longer having home-court advantage and favor. And all churches must adjust to the new normal, in which even the most committed lay leaders attend church less frequently (and "regular" megachurch attendees are slightly less frequent in their attendance than regular attendees of smaller congregations).
Even so, megachurches face a series of unique challenges specific to them, and this article explores five of those. All five challenges contain implications for churches of every size, from small to large.
Challenge No. 1: Overcoming Stereotypes
Probably no type of church is more caricatured in public perception than the megachurch. The opulent lifestyles of a very small number of megachurch pastors—especially ones marked by moral failures and other scandals—get their own TV series. The logic is this: Media coverage understandably is drawn to conflict and controversy, and disproportionately so to a high-visibility church, which often means a megachurch.
In response to the many megachurch stereotypes, the first book written solely about large-church trends was titled Beyond Megachurch Myths: What We Can Learn From America's Largest Churches. Saddleback Church's Rick Warren wrote the foreword, affirming that "facts based on real data and research" can identify both "the overlooked strengths of megachurches and what they can teach churches of all sizes."
What are the widespread misconceptions that have to be debunked? They include:
Myth No. 1: All megachurches are alike. Come to Redeemer Presbyterian Church in Manhattan, New York, where the no-video liturgy is formal, with organ-powered hymns, a classical music ensemble for the offertory and Pastor Tim Keller preaching in a suit and tie. Then go 25 miles west to Liquid Church in Mountainside, New Jersey, a nondenominational church whose name was inspired by texts of Jesus as living water. They distribute earplugs to those who feel the band is too loud, they extensively use video for storytelling and sermon support, and the lights are so low you can barely take notes or see your print Bible. Both churches are about the same size, but they illustrate how denomination, tradition, room size and other factors create very different environments.
Myth No. 2: Megachurches are driven by personality cults, and they fall apart when there is a transition in leadership. It is true that the majority (83 percent) of megachurches had their dramatic growth surge under their present senior pastor, including the season in which attendance grew past 2,000. However, as William Vanderbloemen and I researched for our book Next: Pastoral Succession That Works, we found that a sizable number of megachurches passed the leadership baton smoothly. It's mostly the failures that make the headlines, rather than examples like Atlanta, Georgia's Peachtree Presbyterian Church, where a much-loved, long-term pastor all but died in the pulpit. Yet, more than a decade later, his successor still is there—and the church is thriving.
Myth No. 3: Megachurches are concerned only about themselves and the needs of their attendees. This is an important issue in the church, but I don't know of any studies revealing that megachurches exhibit this characteristic more than any other size of church does. Leadership Network research found that 14 percent of megachurch budgets go to work beyond their walls. This shows up from partnership in global missions to local projects like painting a community center.