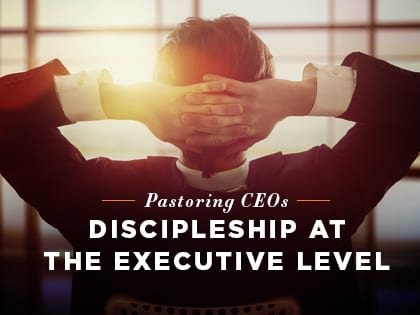 The CEO Forum works with Christians at the highest levels of Fortune 500 companies. Here's how they do it.
What if you knew about a small group of people who live in just about every city in the world? They are found downtown, surrounded by high-rise office buildings. They are often lonely, hurting and going through struggles that we can't really understand. Many desperately need the love of Christ.
No, I'm not talking about the homeless. Think about the other end of the spectrum: the people who occupy the highest levels of those office buildings. I'm talking about the CEOs and executives who run the country's largest companies. We might not imagine that they would accept—or even realize—they need a savior. But the reality is, many do recognize this critical need and try to get connected to God's people.
"Who is really mentoring them or preaching to them? Sharing with them or discipling them about living their life in the marketplace?" asks Dr. Brent Garrison, vice president of education for the CEO Forum. "When was the last time you heard a sermon, or a series of sermons, about living your life in the marketplace or about running a business?"
This is where the CEO Forum comes in. The Forum is an organization of about 200 members who work with Christians at the executive levels of Fortune 500 companies.
"The founder, Mac McQuiston was working for Focus on the Family and his job was fundraising, development work," Garrison says. "He met with the donors of Focus. Some of these guys were CEOs of fairly large companies. They were telling Mac that they didn't have a forum to talk about their faith in the marketplace."
And so, McQuinston founded the Forum to bring much-needed discipleship to these men and women.
Garrison joined the CEO Forum after serving as the president of Arizona Christian University for 15 years. He says the greatest need CEOs face, like all of us, is real relationships with no strings attached.
"It is very lonely," Garrison says. "People come to a leader for what? Because they want something. If you do that day in and day out, you can't give to everybody who asks. You have to be strategic. You have to be wise. It just takes a tremendous drain on an individual."
The Forum has annual gatherings and the staff connects with members regularly through email, phone and video chat.
Garrison says the "high-touch" relationship is the key.
"We travel a lot because of that," he says. "We intentionally go and visit our members wherever they are at. Just to be in their setting—often, even staying at their homes … They trust us."
The Forum connects for mentorship sessions and Bible studies. They use a curriculum called the Spiritual Leadership Institute. Among other topics, leaders learn about balance, "realizing that life is about eternity, family, sharing your faith," Garrison says. "They are kind of driven—well—very driven people. You don't become a high-level exec without being driven at some level."
Garrison says the Forum also stresses that these leaders are blessed with a greater calling: "God has placed you in that position for a purpose. What is it? How will you steward that? How will you be faithful in that?" This is critical, Garrison explains, because CEOs have a great influence on countless employees, business contacts like other CEOs and, sometimes, world leaders.
High-level executives often have struggles in their personal lives, and forum members are there to help, Garrison says.
"Naturally marriages are strained because of working too much and traveling too much," he says. "We try to encourage them to share those struggles with a staff member. We might suggest a professional counselor that we have connections with."
In addition, the Forum also helps guide leaders through professional issues.
"We help when the wheels have fallen off the business bus," Garrison says. "And because of the number of companies that we work with, there are times when we're able to encourage that executive with another executive—someone that has expertise in that field and a world view that is similar to theirs. It becomes a real encouragement to them to know that there are others out there to help them in their challenges."
Garrison encourages pastors and church leaders to develop personal relationships with the CEOs and other high-level executives in their congregations.
"Sometimes a pastor may be intimidated by a CEO, but it goes the other direction, too," Garrison says. "Maybe the CEO is intimidated by the pastor because the pastor has a high level of understanding God's Word. Wouldn't it be great if both of them could help one another?"
If you know of an executive who could benefit from the CEO Forum, you can contact Garrison at [email protected].
Jeff Chaves is a freelance writer and pastor. He has been married to Peggy for more than 32 years, and they have four children. He is the pastor of Northpointe Community Church in Las Vegas, Nevada.