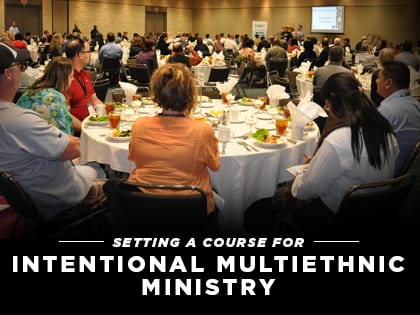 Mark DeYmaz: "It takes more than mere words and sentiment to bring about systemic change."
From its inception, the Wesleyan Church was an unwavering opponent of slavery and actively promoted the integration of blacks and whites in society. By the late 19th century, however, the movement shifted focus from social justice to personal holiness. In the coming decades it remained largely silent and indifferent toward the ongoing plight of African-Americans for equality and justice. This extended to any notion of the local church as a proponent of racial reconciliation, as well.
Reflecting on its history, the Wesleyan Church's Church and Culture handbook says, in part: "While our denomination was born in an antislavery movement, we have sometimes ignored our own heritage and been guilty of both personal and collective racism and prejudice. For this sin, we have collectively repented and asked for God's forgiveness, and we intend to strive for complete racial reconciliation, for we know that this is the will of God."
Reflection, lament and repentance are the first places for any denomination or local church to start taking seriously the prayer of Jesus Christ to be one unified church for the sake of the gospel (John 17:20-23). Yet it takes more than mere words and sentiment to bring about systemic change.
Fast forward to the 21st century, and under the leadership of Jo Anne Lyon, general superintendent of the Wesleyan Church, the denomination has wholeheartedly embraced a vision to plant, grow and develop churches that reflect the love of God for all people on Earth, as it is in heaven.
Among other things, the Wesleyan Church has adopted a formal position statement on racial reconciliation—one that addresses historic disparities between whites and African-Americans. In part, the statement outlines a threefold strategy "to usher in a new movement of unity and integration among whites and African-Americans in the Wesleyan Church." In practice, the denomination has pursued this strategy with other people groups as well, including Native Americans, Hispanics and Asians.
A Wesleyan View of Racial Reconciliation
What Should We Do?
As individuals, we must begin by engaging in more serious reflection on race relations in order to better understand the complexities of the issue.
As pastors, we must recognize a larger mandate to lead the process of reconciliation, particularly among whites and African-Americans, and are responsible for better integrating churches toward this end.
At the district and denominational level, there should be a targeted effort to plant integrated churches in urban centers, and we must lead the way as a movement when it comes to diversifying the leadership of our churches, districts and denominational offices.
In 2014, backing up their words with action, the Wesleyan Church created a new national position, hiring Santes Beatty as its first director of multiethnic ministries. In this role, Beatty is now advancing cross-cultural church planting, growth and development throughout the denomination by organizing, resourcing and developing leaders. The ultimate aim is to "create a denomination-wide culture of multiethnicity that is reflected in leadership at every level, in churches across every district and in outreach to every people group." Strategically, this includes:
Celebrating, sharing and building on multiethnic realities that currently exist within our denominational family.
Coordinating commitment on-ramps for leaders and pastors to make decisions that reflect their belief in the sound theology and ecclesiology of multiethnic ministry.
Creating an ongoing network partnership and communication strategy to keep the movement on mission and sustainable.
Networks, denominations and organizations looking to better reflect the love of God for all people on earth as it is in heaven, as well as pastors and ministry leaders desiring to bring systemic change to their own local churches, would do well to consider the intentionality of the Wesleyan Church in this regard. Indeed, leaders like Santes Beatty are well worth learning from and getting to know.
Mark DeYmaz is the founding pastor of Mosaic Church of Central Arkansas, co-founder and president of Mosaix Network. His latest book, re:MIX—Transitioning Your Church to Living Color (Abingdon Press) will be released in June 2016. Catch Mark later this year, with more than 60 other speakers and 1,200 pastors and ministry leaders, at Mosaix' triennial National Multiethnic Church Conference, Nov. 2-3, 2016, in Dallas, Texas.