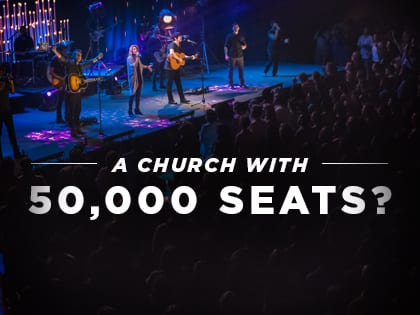 While some headline-making megachurch facilities grow bigger, the average auditorium size is actually getting smaller.
In our Megachurch World series, we take a close look at large churches around the world that are successfully and systematically reaching people with the gospel.
What's the world's biggest church? It depends. There are lots of claims out there, from tallest building to most square feet.
If you mean largest weekly worship attendance, the current record holder, at 480,000, is still Yoido Full Gospel Church in Seoul, Korea. But if you mean greatest seating capacity, look to Africa.
The world's biggest church-related auditoriums are in Nigeria at huge retreat areas set up for camp-style, denominationwide gatherings used throughout the year. For example, under the visionary leadership of Enoch Adeboye, the Redeemed Christian Church of God's vast tract of land called Redemption Camp can seat 1,000,000 in its auditorium built of steel and cement.
Just down the Lagos Expressway from Redemption Camp, Mountain of Fire and Miracles Ministries, founded by Daniel Olukoya, has built Prayer City. It can accommodate over 500,000 worshippers, with an overflow of 250,000. Likewise, Deeper Life Bible Church, which Pastor Williams Kumuyi started in 1973, also has a conference center off the Lagos-Ibadan Expressway. It is nearing completion on a 130,000-capacity main auditorium there.
The Winner Is …
If we're talking about the world's largest church buildings that are specifically used for weekly worship services, Nigeria still leads the way. My online list of global megachurches itemizes 16 different congregations in that country with seating capacities of 10,000 or more.
The largest is Living Faith Church, also known as Winners Chapel, with a 50,000-seat church auditorium called Faith Tabernacle. The 2010 Guinness World Records book recognized it as the largest church auditorium in the world. Predictably, Winners Chapel, led by its founder David Oyedepo, is also one of Nigeria's highest-attended churches.
Other Nigerian church leaders have announced plans to build even larger sanctuaries. For example, Joshua Iginla, leader of Champions Royal Assembly, has broken ground on what he projects to be an 80,000-seater.
Are These Exceptions to the Norm?
Giant, record-setting church sanctuaries will always make headlines, but are they the norm? No, far from it. Granted, churches whose worship is an all-day event (or several hours at least) are more likely to gather the entire congregation for just one weekly service, thus encouraging large seating capacities.
But the majority of global megachurches offer multiple service times and, increasingly, multiple locations. Their sanctuaries are far smaller than their overall attendances.
From my observation, globally, the trend is developing along the same lines as what's happening here in the United States, where the average large-church sanctuary is actually getting smaller. In 2010, the typical main sanctuary was 1,500, but in 2015 it was a median of 1,200, according to a survey of U.S. megachurches with worship attendances of 2,000 and higher.
This may surprise many people whose image of megachurch is the 16,000-seat Lakewood Church. But according to my research, fewer than five churches in North America seat more than 10,000 in their worship venue. Fewer than 50 seat more than 5,000.
Consider Seacoast
Consider Seacoast Church, a multisite congregation based in a suburb of Charleston, South Carolina. Close to 15,000 attend church every week, 6,000 of them at the original location in Mount Pleasant. Yet the sanctuary there seats only 1,350.
That was a big-faith facility when it was first envisioned, initially at a smaller size. In 1991, founding pastor Greg Surratt held a groundbreaking ceremony with 200 people, most seated on portable chairs on empty dirt. Nine years later, Seacoast held five weekly services there for 3,000 worshipers. To accommodate this rapid growth, Seacoast asked the town council to approve plans to expand—but they said no.
This rejection forced Seacoast's leaders to embark on an innovative and, at least for U.S. churches, unconventional quest to make room for more people. They began launching satellite campuses, first across the street, and then in other cities, each with a video sermon, usually Greg Surratt's from the Mount Pleasant campus.
"None of us thought it would work," recalls Josh Surratt, son of the founder who now serves as Seacoast's lead pastor. "We thought, 'Who's gonna watch church on a screen?'"
But it did take off. The church now has a dozen satellite campuses across the Carolinas that regularly use video teaching.
Meanwhile, the Mount Pleasant campus has continued to grow in attendance, doubling since 2001. A local newspaper recently described Sunday mornings there as "a circus." When the service starts, "every chair is full, every table is taken. If you arrive a few minutes late, good luck. You may have to take a seat on the floor."
A solution is in the works, as the town of Mount Pleasant recently approved Seacoast's plan to build a new 2,400-seat worship center on its present campus. Yet Seacoast will continue to offer multiple service times there (currently they offer eight), while also continuing to add new campuses, many of them also offering multiple services.
Innovation Is the Global Pattern
The irony is that what's new, different and innovative for North America is more often part of a global trend. For instance, it was Korean churches that pioneered video venues and multiple sites. They were also early in finding success with a wide range of service times, some starting as early as 6:00 or 7:00 a.m. They popularized the idea of growing bigger by getting smaller through lay-led small groups, which serve as the first line for pastoral care and a leadership development engine for training new leaders.
These innovations all sound a bit like what has become the "new normal" for many North American churches.
Each article in this Megachurch World series seeks to point out one or more ways we can learn from the global church, Korea and Nigeria being just two sources of wisdom and inspiration. There is so much we can learn from what God's people are doing around the world.
Warren Bird, an Outreach magazine contributing editor, is research director for Leadership Network and author or co-author of 27 books for church leaders. Bird oversees Leadership Network's list of global megachurches at LeadNet.org/world.