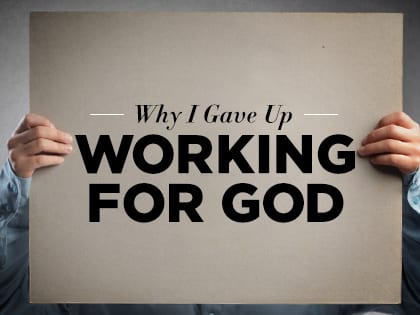 "How are we to accomplish this daunting task of advancing the kingdom of God … both in the world and in ourselves?"
I gave up working for God.
I had been a Christian for nearly 30 years (with about 20 of those years in full-time ministry) when I decided to give up working for God.
Don't get me wrong; I didn't go and join the circus. I didn't leave my faith and become a pagan. It was something entirely different. And something I recommend you do, as well. I quit, and I think you should quit, too.
Thou Shalt …
I grew up in a church where my life was consumed with works. They were cleverly disguised as the "Thou Shalt's."
There were the Thou Shalt Not's …
*Thou shalt not drink, smoke or chew, or go with girls that do.
*Thou shalt not see R-rated movies.
There were the Thou Shalt Do's …
*Thou shalt win your friends to Christ.
*Thou shalt memorize the books of the Bible.
*Thou shalt say your prayers and vote Republican.
And then there were the Thou Probably Shouldn't's. For instance:
*Drinking ginger ale isn't a sin, but it could look like champagne, so you probably shouldn't.
*And even though David danced before the Lord, if you go out dancing you could bump into someone … so you probably shouldn't.
And these were just the basics.
I learned at an early age that God had given me the gift of salvation. My parents and my pastor explained to me how Jesus' death on the cross paid for my sin, and that by believing in this I would be allowed to go to Heaven. This was by far the best gift I've ever received.
On the other hand, every time I went to church I'd get a new list of assignments:
*Lead every neighbor, waiter and person I meet to Christ.
*Feed the hungry, clothe the naked and care for the lonely.
*Study, understand and defend everything from the Ten Commandments to the doctrine of the Trinity.
*Be humble—but be confident.
*Keep fighting the fight—yet live at peace with everyone.
There were nine fruits of the Spirit I was supposed to help cultivate. There was the armor of God I was to put on daily. Oh, and the Great Commission Jesus gave us to go into all the world and make disciples. I had a lot of work to do for God!
So, I did my best. And then I went to Bible college to learn how to do it better. Then I got a job at a church to work for God professionally. And I was exhausted.
How would I ever do this?
I was beginning to wonder if moving into a monastery was the only way to pull this off! Would I ever be able to one day hear, "Well done, good and faithful servant"?
Saved By Faith
My guess is you've been there, too. How are we to accomplish this daunting task of advancing the kingdom of God … both in the world and in ourselves?
Finally I discovered how the Apostle Paul frees us from this works-based thinking …
For it is by grace you have been saved, through faith—and this not from yourselves, it is the gift of God— not by works, so that no one can boast. For we are God's workmanship, created in Christ Jesus to do good works, which God prepared in advance for us to do." (Eph. 2:8-10)
I had read this before, I had preached this before, but I had never truly understood it. In my mind I had taken this to mean that I'm saved by God's grace BECAUSE of my good works. In other words, he gives me the gift of salvation, but I better behave, otherwise he'll take it back. In essence I thought I was saved BY good works.
But Paul says just the opposite! I was saved BY grace and FOR good works … works God has already prepared in advance for me to do.
Now, even after I sorted out the relationship between salvation and works, I still found myself thinking, "That's nice … but I've still got all this work to do."
But look at what Paul writes in his letter to the Philippians:
… Being confident of this, that he who began a good work in you will carry it on to completion until the day of Christ Jesus." (Phil. 1:6)
Apparently God is going to help! And not just cheer us on, but be faithful to complete this good work that he began in us.
When/Then
What I once perceived as an endless list of chores were actually invitations from God to partner with him. He had already gone before us, prepared the way, and was just waiting on us to partner with him.
Or, to put it differently, where I once saw a bunch of "Thou Shalt Do" and "Thou Shalt Not Do" checklists, I began to see the Bible's many When/Then invitations. When I partner with God, then he gives me the ability to change not just my world, but the world.
So I quit working FOR God … and started working WITH God. As it turns out, a lot more gets done that way!
Rusty George is lead pastor of Real Life Church in Valencia, California. Be sure to check out Rusty's new book, When You, Then God: 7 Things God Is Waiting to Do in Your Life (Tyndale Momentum, 2016).