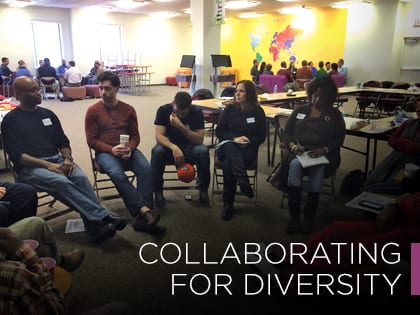 "By working and worshipping together as one, these pastors hope to represent Christ as a peacemaking force in their city."
Increasingly, local church pastors are recognizing the need to establish churches that reflect their communities for the sake of the gospel. This is not only a biblical expectation (see Ephes. 2:11-4:6), it's a pragmatic one for churches seeking not only to survive but to thrive in a diverse society.
To encourage and equip pastors who are chasing this vision, the Mosaix Network—together with leaders from denominations including the Assemblies of God, the Wesleyan Church and the United Methodist Church, to name a few—is working to provide competent coaching, national conferencing and small group curriculum. This partnership has led to the establishment of two pastoral city cohorts: one in Cincinnati, Ohio, and another in Cleveland, Ohio. These cohorts are bringing ethnically and denominationally diverse pastors together once a month for relational connection, peer learning and synergistic discussion about the expansion of healthy multiethnic churches in their respective cities.
At the center of this effort is Oneya Okuwobi, the director of cross-cultural education at Peoples Church in Cincinnati, Ohio, and co-author of the Multi-Ethnic Christian Life Primer—the first-ever devotional and small group study on multiethnic church life designed for people in the pews. Formerly a group finance manager for Proctor & Gamble, Oneya knows something about bringing diverse people together to achieve a common vision.
Having helped launch both cohorts and also serving as a facilitator, Oneya lists seven benefits to pastors committed to being involved. The cohorts provide:
1. A safe space to share openly and honestly about the complexities of race in the United States, and just as importantly, to listen and learn from the experiences of others.
2. A welcoming environment where each pastor and church is accepted, no matter what stage of personal understanding or corporate development they currently find themselves.
3. A learning lab in which pastors can both share and discover promising practices for working smart, avoiding unnecessary mistakes and making measurable progress much sooner than they could otherwise make on their own.
4. A working center where pastors can help each other strategically advance a local multiethnic church planting movement or the transition of an existing monoethnic congregation.
5. A collaborative atmosphere for developing cross-cultural relationships and pursuing cross-cultural competence, both of which are critical for leaders hoping to engage their community effectively in and through the local church.
6. A credible witness of the unity of the church that goes beyond mere theology.
7. A transferrable model for other pastors, churches and cities to explore and replicate.
Several years ago, three pastors in Cincinnati began meeting regularly over lunch to discuss issues related to the multiethnic church, and Mosaix Cincy was born. Two years ago, Oneya got involved and introduced the Primer as a tool for study. That year, a total of 75 pastors participated at least once, while more than 30 of them completed the entire Primer over a nine-month period by discussing one chapter at each gathering. More recently this cohort has been having a deep and ongoing conversation about the need to increase minority leadership of multiethnic churches.
Mosaix CLE (in Cleveland) launched in November 2015. Not long after the first meeting, an Ohio grand jury declined to indict a police officer involved in the shooting death of Tamir Rice. This shooting occurred in Cleveland on Nov. 22, 2014. At the cohort's first meeting in January 2016, some 50 pastoral leaders representing 19 churches gathered to discuss how to engage their own congregations as well as civic leaders in light of increased racial tensions resulting from the grand jury's decision. By walking, working and worshipping together as one, these pastors hope to represent Christ as a peacemaking force in their city.
In partnership with leaders from the North American Mission Board (Southern Baptist Convention) and Evangelical Covenant Church, Oneya is hoping to launch cohorts this year in Chicago, Illinois, and New Orleans, Louisiana. Many more pastors and churches in the future could benefit from working with her to establish cohorts in their own cities, as well.
Mark DeYmaz is the founding pastor of Mosaic Church in Little Rock, Arkansas, and a co-founder of the Mosaix Global Network.