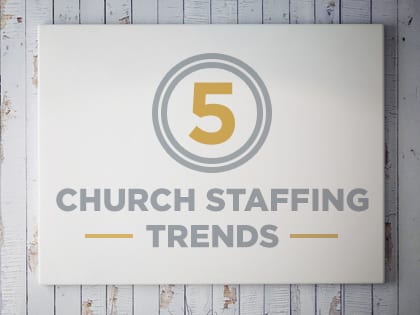 William Vanderbloemen: "Look for leaders of leaders who naturally invest in others and create a culture of excellence."
As we've been helping churches and ministries across the country think about church staffing and team building recently, here are a few staffing trends I've noticed that will help churches of all sizes build, run and keep a great team.
1. Out with the specialists, in with the leaders.
With the exception of a few positions, smart churches are focusing on hiring people with natural leadership strengths and high potential. This is a shift from previous trends, where the top candidates for a position were highly specialized or experienced.
On-the-job learning is the best teacher, especially in ministry. Look for people who are adaptable, eager to learn and contribute and actively find ways to go above and beyond. Simply put, look for leaders of leaders who naturally invest in others and create a culture of excellence.
2. The succession conversation is vital.
Baby boomers are aging and millennials are surging in incredible numbers. With this shift in ministry, I'm seeing a greater focus on handing off the baton effectively to the next generation. Church leaders are feeling the urgency now more than ever to have the succession conversation.
It's important to make "passing the torch" a priority now. Each generation has a lot to learn from the other, and it's vital to discuss the future now.
3. Experts on millennials are in high demand.
According to Pew Research, millennials are now the largest generation in the U.S. workforce. They bring with them a new way of thinking, leading and innovating. Experts on millennials are in high demand, and who better equipped for it than millennials themselves? When making hiring decisions this year, consider the fresh perspective millennials can bring to your team.
It can feel risky to choose someone for their perspective over experience. But after building my team of 63 percent millennials, I'm a believer that the right person, who is a combination of teachable, thoughtful and hardworking, is an incredible asset to a team. Millennials are the future, but also the present.
4. Personal touch is paramount.
In the information age, thoughtful and relational church interactions have incredible value. While technology or a new service may be impressive to visitors, nothing can compare to the way a person is treated by your church staff.
When you hire employees who have this personal touch in every interaction, people will never forget it.
5. Impersonal services are becoming outsourced.
As churches strive for thoughtful interactions with members, the value of staff members' interpersonal skills grows. Because of this, impersonal services, such as bookkeeping, are becoming increasingly outsourced and the payoff is evident.
Outsourcing impersonal jobs frees your team to focus on the most important parts of the church, like the relationships with and discipleship of your congregation. This will also lead to collaboration among your staff, which in turn boosts staff culture.
Hiring for potential and culture is becoming much more important than hiring for experience and competency. Understanding millennials and striving for the personal touch in every interaction is now of the utmost importance to the effectiveness of your church staff. Apply these best practices to your ministry as you build the kingdom in your community this year.
Read more from William Vanderbloemen »
William Vanderbloemen is president and CEO of The Vanderbloemen Search Group, and is the co-author (with Warren Bird) of Next: Pastoral Succession That Works. For more information:Vanderbloemen.com