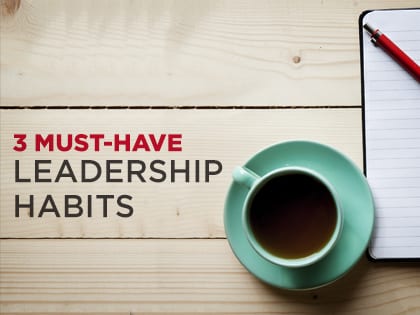 Brad Lomenick: "The patterns we cultivate shape the person we each become."
Every year I was at Catalyst, a new crop of interns would arrive on the scene, wide-eyed and eager. Their nervousness reflected the seriousness of their task. They'd been handed an opportunity to make their mark with the largest network of young Christian leaders in America.
I gathered them in my office for an orientation of sorts where I laid out the philosophy of our organization and the eight essentials of a "Catalyst leader." After I finished and before they began work, I always gave them the opportunity to ask me any questions they might have. Most years, one of the bolder and more aggressive of the bunch would raise his or her hand and ask the one question I knew would be coming:
"What do we need to do to become the kind of leader you're describing?"
Without hesitation, I always replied, "Remember three words: humble, hungry, hustle."
Leaders will develop a variety of habits throughout their lives, but these three words divide them into categories that help answer three of the most important questions every influencer must ask:
HUMBLE: "Who am I?"
HUNGRY: "Where do I want to go?"
HUSTLE: "How will I get there?"
This alliterated trio has become my personal life mantra over the last decade because it encapsulates the philosophy that undergirds what I believe it takes to become a change agent in the modern world. Leading is difficult, and anyone who has been in a position of authority or influence for very long knows this. It's hard work. But leadership is more than hard work; it is habitual work. It is worked out every day in the tasks we complete, the ways we approach our work and the rhythms we nurture in our lives. It hangs on the hooks of the patterns we create, not just the success we may stumble upon.
In my experience, too few leaders recognize the importance of habits in life. One researcher at Duke University, for example, found that more than 40 percent of the actions people performed each day weren't actual decisions, but habits. When you rise in the morning, nearly half of your day will be determined by the patterns you've either intentionally created or passively allowed.
I've had the privilege of working with the best and most respected leaders in America, and almost all of them share a common set of characteristics. They are principled and passionate, courageous and capable, called and collaborative, hopeful and authentic. But that leaves us with a lingering question: How did they get there? The path to being a better leader is paved with the asphalt of the habits we develop.
There's no avoiding it: The patterns we cultivate shape the person we each become. Unfortunately, most people aren't intentional about the habits they're developing.
As I always told our interns, the characteristics of a Catalyst leader are vital. But so are their patterns. Better traits are the desired destination, but better habits are the road map. As a leader, you are responsible for putting these pieces into place, and making them sustainable. Becoming a better leader personally doesn't happen on a whim. Or by accident. You have to work at it.
Since you're reading this, I suspect you're like the interns I sat down with every year. You may not be a recent college graduate who is willing to work for an hourly rate that borders on crazy, but you're eager to succeed. You're willing to learn and committed to doing whatever it takes to be a good steward of the calling you believe God has given you.
If that's you, realize that becoming a better leader begins with building better habits.
Let the transformation begin.
This feature is adapted from Brad Lomenick's recently released book, H3 Leadership: Be Humble. Stay Hungry. Always Hustle. For more information, visit BradLomenick.com.
Brad Lomenick is a speaker, writer, leadership advisor and founder of Blinc Consulting. For more than 10 years, he served as president and key visionary of Catalyst, one of America's largest gatherings of young leaders.