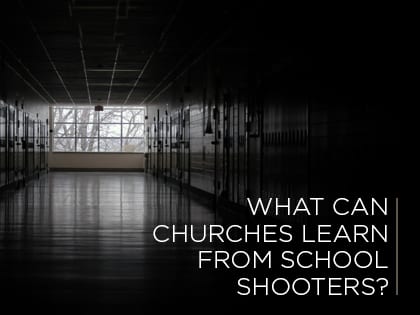 From "thresholds of violence" to "thresholds of grace": Could this social process somehow drive the mission of the church?
"Let us consider how we may spur one another on toward love and good deeds" (Hebrews 10:24).
Malcolm Gladwell is a master at scrutinizing social trends and providing plausible and compelling explanations for how and why people do what they do. His latest feature for The New Yorker, "Thresholds of Violence," puts school shootings under the microscope and attempts to explain how young men—many of whom, surprisingly, come from stable upbringings and don't have any noticeable psychopathic tendencies—could ruthlessly plot and execute plans to open fire on a group of people.
Gladwell cites a 1978 essay written by Stanford sociologist Mark Granovetter, which describes the social process that must occur for an individual to decide to act violently or destructively. Using riots as an example, Granovetter posed that each person has a particular threshold that determines their proclivity to violence. Gladwell explains:
In the elegant theoretical model Granovetter proposed, riots were started by people with a threshold of zero—instigators willing to throw a rock through a window at the slightest provocation. Then comes the person who will throw a rock if someone else goes first. He has a threshold of one. Next in is the person with the threshold of two. His qualms are overcome when he sees the instigator and the instigator's accomplice. Next to him is someone with a threshold of three, who would never break windows and loot stores unless there were three people right in front of him who were already doing that—and so on up to the hundredth person, a righteous upstanding citizen who nonetheless could set his beliefs aside and grab a camera from the broken window of the electronics store if everyone around him was grabbing cameras from the electronics store.
Adapting this model, Gladwell theorizes that many of the young men who have perpetrated school shootings (or were caught before they could carry out the act) had reached their threshold of violence after reading about past school shootings or watching online videos of the shooters describing their plans. Perhaps their inclination to violence was lower than that of past school shooters, but by "witnessing" the actions of the previous instigators, their thresholds were reached.
"The riot has now engulfed the boys who were once content to play with chemistry sets in the basement," Gladwell writes. "The problem is not that there is an endless supply of deeply disturbed young men who are willing to contemplate horrific acts. It's worse. It's that young men no longer need to be deeply disturbed to contemplate horrific acts."
This is a disturbing analysis, and may provide a harrowing glimpse into humanity's sin nature. But what if the opposite were also true? What if we took some of the tenets of Granovetter's proposal and reversed them? Might there also be Spirit-orchestrated "thresholds of grace"? Might we instead provoke one another in the church to commit positive, life-giving acts?
Say there are three congregants: Joe, Frank and Melinda. The youth pastor is looking for volunteers and makes an announcement on Sunday morning. Melinda, whose volunteer threshold is zero, steps up immediately. A few weeks later, after she is settled in to the youth ministry, she and the youth pastor together make a plea for more volunteers in the adult service. Melinda says, "I wasn't sure where I could serve, but once I heard the invitation, I knew I had to try it. And I'm so glad I did."
Frank, who has a volunteer threshold of one, now has the impetus he needs to step up and volunteer. The following month, Frank, Melinda and the youth pastor announce in front of the congregation that the youth ministry is looking for more volunteers. Finally, Joe, whose volunteer threshold is two, is incited to join the team.
Churches that show video testimonies before baptisms or have dedicated storytelling ministries are capturing this idea. When people see or read about stories of life change, they are more likely to cross the threshold of faith.
Perhaps God created us this way: to be influencers of one another as we tell about the regenerating work of the Spirit in our lives. But sin has corrupted this process and instituted thresholds of violence and destruction that only the power of Christ can reclaim.
Just as school shootings can teach us about the depravity of the human soul, the life-change stories we witness every day in the church should remind us of every person's God-given, Spirit-guided potential for compassion and redemption.