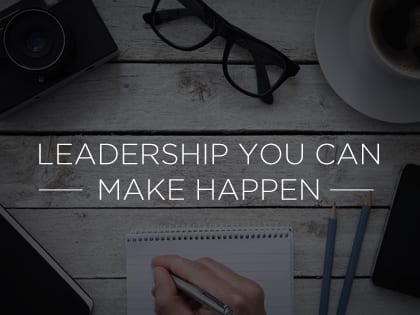 Brad Lomenick: "Take heart, take courage, and put these five leadership keys into practice."
I hear it all the time—"Yeah, Brad, that's great for them, but we don't have the staff or the resources or the budget or the capacity to pull off that kind of initiative." Or, "Of course you can have that large of a crowd at that conference—your resources are unlimited. But we could never do that."
You've probably heard that before, and you've probably said it before. The reality is, the average church in America, according to the Barna Group, is around 90 people, with, I would guess, not more than three paid staff. So most of you reading this are short on resources, with limited staff, and you spend your time taking out the trash as well as preaching the sermons and casting vision.
While that may be true, there are certain parts of leadership, organizational development and church life that everyone can put into practice, regardless of how small, how new, how strategic or how big your budget or staff. Take heart, take courage, and put these five leadership keys into practice.
1. Big vision, small target.
Scale your impact and celebrate appropriately. Dream big—truly believe if you can dream it, it's possible. Lean toward "we can do it," not "I wish we could do it." But also have a laser focus on your target.
2. Pursue excellence.
Be faithful to a passion for being the best, even if you fall short sometimes. You can be great no matter how large your organization. Being big doesn't equate automatically with being the best. Be a learner and improve every day. Finish what you start. Do the small things well. Push for a higher standard consistently.
3. Be intentional.
Build a culture internally early on that will help grow your organization externally later on. For example, write things down. Push for execution at every level. Live out an uncompromising commitment to doing the right thing. Allow your team and volunteers to be decision makers. Be nimble and keep a constant posture that's able to change quickly.
4. Look for and find talent everywhere.
Attract the best. No longer do the most talented only end up in larger churches. Even with designers, creative artists, musicians, singers and videographers, a trade out strategy can be a good way to get them involved. Go after the best—risk asking someone to get involved; even if you can't pay, they might say yes because the vision is so compelling.
5. Partner and collaborate often, and well.
Take the first step in reaching out to organizations, networks, associations and groups that you can work together with on projects. Don't wait on them to approach you. The local school system, chamber of commerce, economic development association, regional poverty ministry, etc., can all be partners in making an impact in your community. Grow your reach by growing your partnerships. Often making an impact on your community, city or region can happen by simply bringing together the key players, achieving more together than you could on your own.
Push against the constant pull of allowing the excuse gorilla to jump on your back and blame your lack of impact on not having enough ______ (fill in the blank). We must all be diligent in our pursuit of these keys. You can do this!