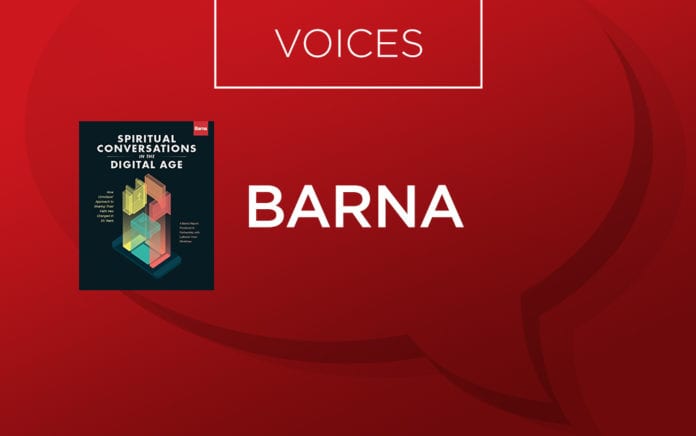 How Christians Approach to Sharing Their Faith Has Changed in 25 Years
Spiritual Conversations in the Digital Age
(Barna, 2018)
WHO: Barna and Lutheran Hour Ministries.
THEY SAY: "If adults aren't being brought into the church, it stands to reason that our regular methods of evangelism aren't working as they once did."
THE BIG IDEA: Because technology and rapid cultural shifts have changed the culture, we need to explore how we define evangelism, how sharing faith is perceived and what a good evangelist looks like.
THE PROGRESSION:
"Sharing Faith: Then and Now" examines not only how evangelism has changed over time but also how Christians' view of sharing their faith has altered. Part 2, "Digital Faith Interactions," looks at the impact social media and online avenues have had on spiritual conversations.
Part 3, "Spiritual Conversations from Both Sides," takes a deep dive into what both the sharer and hearer of the gospel perceive. The book wraps up with "Eager to Share," which shares what today's evangelist looks like.
"These are unique days for the church in North America as it learns how to flourish in a post-Christian era."
Order this book from Amazon.com »
Read an excerpt from this book »
A 2019 Outreach Resource of the Year—Evangelism Category
"Spiritual Conversations in a Digital Age delivers pertinent information to reaching people in the modern world."
Evaluated by Peyton Jones, author of Reaching the Unchurched.