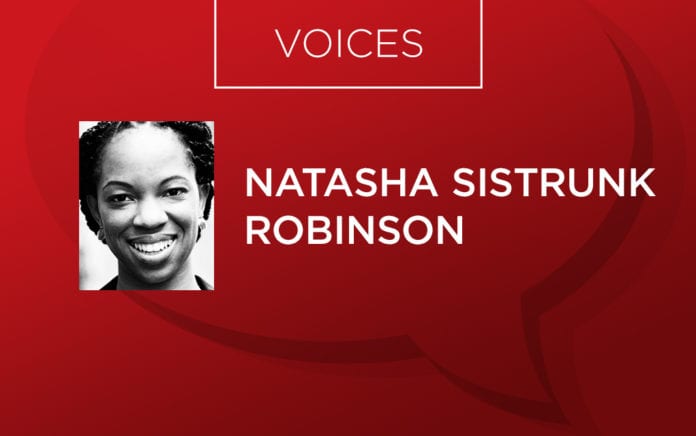 Choosing Freedom and Courage in a Divided World
A Sojourner's Truth
Choosing Freedom and Courage in a Divided World
(IVP, 2018)
WHO: Natasha Sistrunk Robinson, founder of Leadership LINKS and a columnist for Outreach magazine.
SHE SAYS: "We each have a responsibility to create the types of communities we need to sustain ourselves on this journey."
THE BIG IDEA: Blending her personal story with the account of Moses, the author explores the spiritual and physical tensions of truth-telling, character and leadership development, bridge building and more.
THE PROGRESSION:
Part 1, "Formation," explores in four chapters the pain, grace, community and purpose that helped shape the author. Part 2, "History," explores consciousness, deliverance and trust.
In Part 3, "Wilderness," the author takes readers through the impact of anger, death, humility and war.
The book wraps up with Part 4, "Redemption." The author shares hopeful messages on building, healing and living.
"Walking the humble path provides self-awareness and helps us cultivate the spiritual disciplines we need to lead others through the wilderness."
Order this book from Amazon.com »
Read an excerpt from this book »
A 2019 Outreach Also Recommended Resource—Social Justice Category
"An insightful and well-written narrative that is thoughtful, theological and truthful."
Evaluated by Mark DeYmaz, an author, Outreach magazine contributing editor, founding pastor of Mosaic Church of Central Arkansas, and cofounder and president of Mosaix Global Network.
A CONVERSATION WITH NATASHA SISTRUNK ROBINSON
How do you see pastors and ministry leaders benefitting from the leadership lessons in your book?
A Sojourner's Truth is an invitation to learn and have honest conversations. It is about three narratives: my personal life, leadership and faith journey as an African-American woman and leader within evangelicalism; the biblical story of Moses and the Exodus narrative and the story of black people in America.
In the book's preface, I write, "We need to hear more stories that originate with and feature the voices and experiences of people of color," and "We need to see more women and men working and leading together across generations to advance the kingdom of God."
The latter desire is a theological statement and missional longing. Since so many of the churches within evangelicalism are led by white men, the benefit of reading such a book and engaging in such a story can be spiritually transformative, can challenge the ways that we see or perceive "the other," and cause us to hear the cries and lament of our brothers and sisters who experience this world, and America in very different ways.
What inspired you to write this book?
When confronted with the history and current cultural climate in America, one that doesn't value truth-telling or the lives, voices and contributions of women and people of color, I was both sad and angry about the silence or lack of intentional and just actions on behalf of the church to influence a culture that is imploding on itself.
I wanted to give an honest picture of my life as an African-American woman. I wanted to write a book that was centered on the voices, stories, history, culture and triumphs of black people.
It was a source of healing for me to write. I pray it will be a source of healing and inspiration for the people of color who read it. I pray it provide a different perspective and be a source of education for those who are willing to learn, even when they haven't had my shared experiences.
I simply wanted to tell the truth with the hope that was enough, and with a prayer that the God of all truth would use this resource to transform people so we can all see Jesus at work and join in the redemption that is taking place in the world.
In what ways have leadership challenges improved for women in ministry?
I really don't know if or how leadership challenges have improved for women in ministry.
I've always been a leader and that was first affirmed in middle school. Since then, I have led in multiple environments from serving as an officer in the Marine Corps, teaching and doing recruitment at the U.S. Naval Academy, working at the Department of Homeland Security, and now leading my nonprofit, Leadership LINKS, Inc.
I didn't come to the church to ask for permission to lead. Have I faced challenges as a woman leader within the church? Absolutely! However, I don't give much attention to what people within the church think I should or should not be doing because of my gender.
Going back to the preface of my book, I wrote, "We need more women and men working and leading together across generations to advance the kingdom of God." Therefore, I focus my attention on leading, teaching, coaching, and mentoring women and men, boys and girls, towards this end.
Women, individually and collectively, have to decide when they are providing the majority of the service support or "help" and giving to the church, what values, priorities, and responsibilities they want to hold the church accountable to. For me, I don't go where I am not invited and I don't invest where I am not valued. If I know that I do not have the opportunity to partner with my sisters and brothers to advance the kingdom of God in a place, then I shake the dust off my feet and I go somewhere or through the power of the Holy Spirit, I create the space for that work to take place.
I firmly believe in the Lausanne Covenant's commitment of "The whole church taking the whole gospel to the whole world." I truly believe that the church misses out when women are not on mission to lead and advance the kingdom of God.