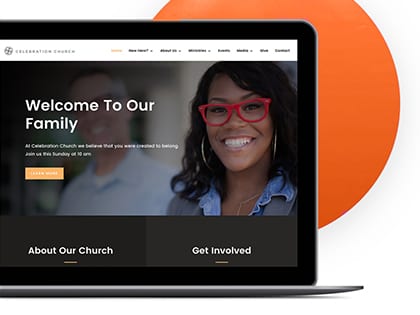 Here's how a church of any size can leverage Social Reach Websites to make a powerful impression.
YOU CAN HAVE A STRONG WEB PRESENCE—AND SOCIAL REACH WEBSITES CAN HELP
People search online every day for churches near them—is your church's online presence vibrant and current? Your church needs a website that's easy to manage, church specific and visually appealing so you can reach more of your community online.
Outreach Inc., the parent company of Outreach magazine, has developed Social Reach Websites to help churches of any size make a powerful impression on both new visitors and current members. These websites include all the features churches today need, including giving integration, calendar functionality, a large media library and more. Plus, Social Reach Websites are mobile responsive, so your website will look great on any device.
What if your church doesn't have a resident techie? No worries. We're here each step of the way to ensure your success. Social Reach Websites make building and managing an online presence easy with features designed just for churches and ministries, plus the benefit of a powerful social media feature. Our predesigned templates are easy to customize, but we can also migrate your existing church website to Social Reach Websites.
SPECIAL FEATURES
With Social Reach Websites, you can choose from the entire Outreach image library including seasonal, campaign and inspirational images as well as upload your own images.
Social Reach Websites integrates with MailChimp, a leading email service provider. MailChimp is free for anyone with a mailing list of less than 2,000, and offers great nonprofit rates for lists greater than 2,000. Mailchimp has a wonderful HTML email builder and super simple tools. As always, we are here to support you.
Visit SocialReach.Church to get started »
More from Outreach Inc. »