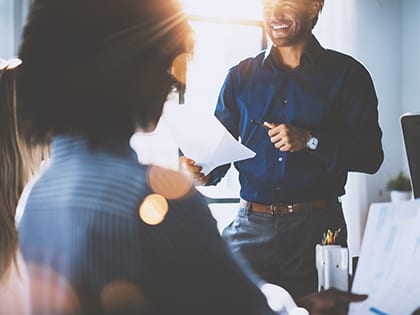 Faculty are equipped to consider how their disciplines need to be taught considering the growing diversity in North America.
How are seminaries preparing students for effective, transformative ministry in an ever-changing culture? In this series, we interviewed seminary leaders from across North America to get their first-hand take on what's trending in seminary education.
How is your school preparing leaders to more effectively reach racially and ethnically diverse communities?
KEITH S. WHITFIELD, Dean of Graduate Studies, Southeastern Baptist Theological Seminary: Our president, Dr. Daniel L. Akin, initiated the Kingdom Diversity Initiative and hired Walter Strickland, associate VP for Kingdom Diversity Initiative, to lead this emphasis. Over this period, Southeastern's minority population has more than doubled. Faculty have been encouraged and equipped to consider how their disciplines need to be taught considering the growing diversity in North America as well as global challenges in contextualization.
KURT N. FREDRICKSON, Associate Dean, Fuller Theological Seminary: We accomplish this through intentionality in the educational process: hiring a diverse faculty, having students read texts from authors that represent racial and ethnic diversity, and including curriculum with courses on engaging global realities, the culture and diversity.
LEROY GOERTZEN, Doctor of Ministry Director, Corban University: The Corban University Center for Global Engagement continues to grow, becoming more centralized in its role in serving the entire Corban community. It sponsors programs that provide opportunities for both students and staff to become meaningfully involved in ministering to and within racially and ethnically diverse communities.
We have a long, long way to go since we are predominantly a white, middle-class, private university associated with a more conservative evangelical church and theological tradition. Affordability and a lack of scholarships play a key role in who is able to attend.
WILLIAM D. SHIELL, President, Northern Seminary: We created two programs for persons who are serving in multiethnic, urban and African-American communities. We have a specialization in Christian community development that trains churches in partnership with John Perkins, the Christian Community Development Association, Wayne Gordon and Lawndale Community Church. We have a full master's in urban leadership program launching this fall. Pastors on the South Side of Chicago in partnership with New Life Covenant Church Southeast developed this curriculum. We're addressing biblical and theological training in contexts dealing with gang violence, financial stress, trauma, mass incarceration and the police.
SAMUEL THORPE, Interim Dean, College of Theology and Ministry, Oral Roberts University: Our faculty is racially and ethnically diverse (African-American, Korean, Hispanic). We also have courses that emphasize interest areas such as urban ministry, missions and culture, the history of black theology, etc.
Read about more trends in seminary education: