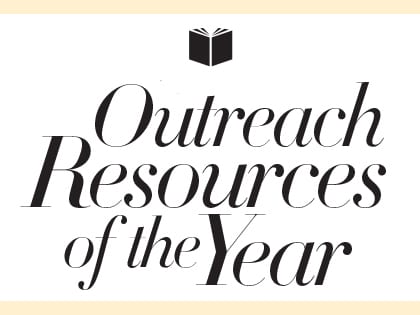 The year's best resources from evangelism to church, culture to apologetics, leadership to children and youth—2018.
For the 15th consecutive year, Outreach magazine is celebrating some of the best outreach-oriented books and curricula by honoring them as Outreach Resources of the Year.
The Outreach Resources of the Year highlight valuable resources for church leaders and bring deserved attention to ones that can help churches more effectively share the gospel and reach communities for Christ.
More than 170 resources published between Nov. 1, 2016, and Oct. 31, 2017, were submitted for consideration and placed into 12 categories. An expert in each category evaluated the resources and chose what they considered to be the best. The experts also chose how many resources to recognize, and whether to include any as "Also Recommended."
THE 2018 OUTREACH RESOURCES OF THE YEAR
Evangelism
Breaking the Huddle: How Your Community Can Grow Its Witness
By Don Everts, Doug Schaupp and Val Gordon (IVP)
Sharing Jesus without Freaking Out
By Alvin L. Reid (B&H Academic)
ALSO RECOMMENDED
Gospel Fluency: Speaking the Truths of Jesus into the Everyday Stuff of Life
By Jeff Vanderstelt (Crossway)
A Disruptive Gospel: Stories and Strategies for Transforming Your City
By Mac Pier (Baker Books)
Reaching the Unreached: Becoming Raiders of the Lost Art
By Peyton Jones (Zondervan)
Church
I'd Like You More If You Were More Like Me: Getting Real About Getting Close
By John Ortberg (Tyndale Momentum)
ALSO RECOMMENDED
To Alter Your World: Partnering with God to Rebirth Our Communities
By Michael Frost and Christiana Rice (IVP Praxis)
Leadership
Shattering the Stained Glass Ceiling: A Coaching Strategy for Women Leaders
By Robyn Wilkerson (Influence Resources)
How to Lead When You're Not in Charge: Leverage Influence When You Lack Authority
By Clay Scroggins (Zondervan)
ALSO RECOMMENDED
An Unhurried Leader: The Lasting Fruit of Daily Influence
By Alan Fadling (IVP Formatio)
The Minister as Moral Theologian: Ethical Dimensions of Pastoral Leadership
By Sondra Wheeler (Baker Academic)
No Silver Bullets: Five Small Shifts That Will Transform Your Ministry
By Daniel Im (B&H Books)
Multicultural
Engaging Globalization: The Poor, Christian Mission, and Our Hyperconnected World
By Bryant L. Myers (Baker Academic)
Racial Reconciliation
Dream with Me: Race, Love, and the Struggle We Must Win
By John M. Perkins (Baker Books)
ALSO RECOMMENDED
Beyond Colorblind: Redeeming Our Ethnic Journey
By Sarah Shin (IVP)
Culture
Culture Care: Reconnecting with Beauty for Our Common Life
By Makoto Fujimura (IVP)
ALSO RECOMMENDED
The Yes Effect: Accepting God's Invitation to Transform the World Around You
By Luis Bush (Moody Publishers)
Theology
The Sermon on the Mount and Human Flourishing: A Theological Commentary
By Jonathan T. Pennington (Baker Academic)
ALSO RECOMMENDED
Adventures in Evangelical Civility: A Lifelong Quest for Common Ground
By Richard J. Mouw (Baker Academic)
In Search of Ancient Roots: The Christian Past and the Evangelical Identity Crisis
By Kenneth J. Stewart (IVP Academic)
Discipleship
The Disciple Maker's Handbook: Seven Elements of a Discipleship Lifestyle
By Bobby Harrington and Josh Patrick (Zondervan)
ALSO RECOMMENDED
Practices of Love: Spiritual Disciplines for the Life of the World
By Kyle David Bennett (Brazos Press)
Inspirational
Grace Is Greater: Plan to Overcome Your Past, Redeem Your Pain, and Rewrite Your Story
By Kyle Idleman (Baker Books)
Recapturing the Wonder: Transcendent Faith in a Disenchanted World
By Mike Cosper (IVP)
Vintage Saints and Sinners: 25 Christians Who Transformed My Faith
By Karen Wright Marsh (IVP)
Counseling and Relationships
The Tech-Wise Family: Everyday Steps for Putting Technology in Its Proper Place
By Andy Crouch (Baker Books)
ALSO RECOMMENDED
The Science of Virtue: Why Positive Psychology Matters to the Church
By Mark R. McMinn (Brazos Press)
Children
God's Crime Scene for Kids: Investigate Creation with a Real Detective
By J. Warner Wallace and Susie Wallace with Rob Suggs (David C Cook)
ALSO RECOMMENDED
Children's Ministry on Purpose: A Purpose Driven Approach to Lead Kids Toward Spiritual Health
By Steven J. Adams (Zondervan)
MEGA Sports Camp: Conquer the Day
(Salubris Resources)
Youth
Meet Generation Z: Understanding and Reaching the New Post-Christian World
By James Emery White (Baker Books)
ALSO RECOMMENDED
Serving Local Schools: Bring Christ's Compassion to the Core of Your Community
By Chuck Bomar (Zondervan)