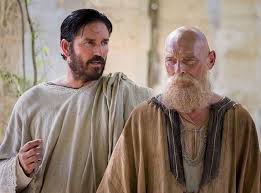 It's a story of love, of forgiveness, of endurance. And it's the story of the two men whose faith challenged an empire.
| Promotional Content |
In Theaters Now
It's a story of love. It's a story of forgiveness. It's a story of endurance. And it's the story of the two men whose faith challenged an empire. Paul, Apostle of Christ, follows the apostle Paul (James Faulkner) and Luke (Jim Caviezel) the physician in this epic biblical drama from Affirm Films, in theaters now.
"Paul, Apostle of Christ brings to life on screen the powerful story of a man who changed the course of history through his committed faith, yet at great cost to himself," says director and screenwriter Andrew Hyatt. "The film shows what a deadly dangerous place the Roman world was for the early Christian church, and it shows how Paul prepared the faithful to continue living out their beliefs in the face of it."
Paul may not have met Jesus during his earthly ministry, but he was the most significant early convert. Paul was a traveler, preacher, theologian, evangelist, missionary and martyr. He walked an average of 20 miles a day, wrote nearly a third of the New Testament, endured shipwrecks and floggings for the gospel.
Is it any surprise that the Lord called him "my chosen instrument"? (Acts 9:15).
Watch The Most Influential Apostle featurette.
HOST A FREE MINISTRY EVENT
Nearly 2,000 years since Paul lived, his words still minister to the church. His epistles were vital to the spreading of Christianity. Now you and your church can dive into the ministry of Paul with an on-demand simulcast, [link to: https://themoviescreener.com/paul/simulcast], featuring David Nasser and Jim Caviezel. This free ministry event includes exclusive film clips, messages from pastors and cast members, and behind-the-scenes content.
Paul, Apostle of Christ vividly portrays Paul's testimony on screen and highlights his contribution to the Scriptures. As one of the most prolific writers of the New Testament, Paul's letters are deeply personal. He encouraged Timothy to be strong in the faith. He called out disruptive leaders and shared about his weaknesses and past sins. But Paul was not only writing to first century Christians, he was also writing for the millions who would follow Christ in generations to come.
The film brings Paul's writings to life—and so does the Letters From Paul series. The "letters" are part of a Lenten reading series, drawn directly from the epistles and narrated by James Faulkner (Downton Abbey), who plays Paul in the upcoming film. These letters are available at PaulMovie.com or on Facebook.
"We committed to create a film true to the biblical account of Paul's life, but also one that is dramatic and engaging," says Producer T.J. Berden. "The trials faced by early Christians and their faith and bravery in spite of them will amaze audiences."
Paul, Apostle of Christ is in theaters across North America now—just in time for Easter.
For information of church resources, free downloads, sermon clips and more »
For information on group sales »